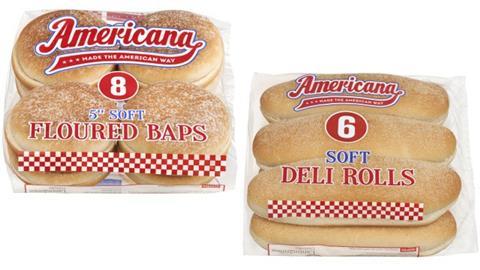 Lantmännen Unibake has taken its Americana foodservice brand into the retail market for the first time.
With retail bread supply under pressure, and the foodservice market under almost total lockdown, the business has launched a selection of frozen Americana products into Tesco.
The retailer will be listing the packs of eight five-inch soft Americana Floured Baps and six Deli Rolls online and in stores across the country.
Made by Lantmännen Unibake at its bakeries in Milton Keynes, they are produced using an American sponge and dough method, designed to give a distinctive flavour and texture. All Americana foodservice products are supplied frozen and pre-sliced.
"It's great to see the Americana brand make the transition from foodservice to frozen food retail in response to the Covid-19 lockdown," said Lantmännen Unibake marketing and innovation director Peter Drew.
He added that businesses needed to work together at this time, and that it was testament to the teams at Lantmännen Unibake and Tesco that they had turned the launch around so quickly.
"The current climate means we are having to adapt quickly to changes and we are committed to supporting our customers however we can. This includes making rapid adjustments to our product to ensure it is available where and when it is needed most."
Britain's largest bakers have fought to keep supermarket shelves stocked since March, with some removing niche SKUs from ranges to maximise capacity for core lines.