Cake has long been the celebration baked good of choice, but other products are getting a look-in, including the humble cookie.
Businesses are reporting a big uplift in demand for giant cookies, gift packs and cookie pies, for events ranging from birthdays to bar mitzvahs.
For example, Millie's Cookies launched a Stuffed & Loaded Cookie Pie for Valentine's Day this year. Priced at £26.99, it was made from two giant cookies and filled with marshmallows, premium chocolate chunks and jammy heart biscuits.
Online bakery business Ooh & Aah has recently developed 12-inch cookie cakes, which consumers can cut into slices and portion like a birthday cake. The popular range has attracted over 100 orders per day. "Our unique selling point is letter box-friendly cookies. Our 7- and 12-inch ranges are designed to slip through the letter box, so consumers don't have to be at home to receive the gift," says Barbara-Anne McMullan, co-owner of Ooh & Aah.
Co-owner Ruth Armstrong adds that customers are using a lot of the 12-inch cookies instead of birthday cakes. "It is a birthday and personalised gift all in one," she says.
Chinelo Awa, founder of Good Cake Day, has developed larger cookies and biscuits for birthday celebrations, personalised with consumers' ages. Cookies and biscuits should be unique and bespoke, making consumers feel special, she says.
"In today's world, we are constantly encouraged to be homogenised with one standard of beauty. There's something really powerful about letting cookie cakes celebrate who you are," she explains.
Cookies can be adapted to suit different occasions, says Holly Wales, activation manager at CSM Bakery Solutions. "With the trend for wedding cakes moving away from traditional sponges, there's an opportunity for large cookie pie-style cakes, served in tiers, as a fun alternative," she explains.
Giant cookies are a staple for Primrose Bakery, with its new 10-inch treats featuring piping with messages. Variants include chocolate caramel, peanut butter and white chocolate & granola.
US-style giant cookies, which are baked with low-protein cake flour, are a huge trend right now, adds Primrose Bakery manager Daisy Heath. But cookies don't have to be giant to work for a celebration. "Cookies and biscuits are easier to handle than a slice of cake – you can give them out at birthdays without slicing anything," says Heath.
Melissa O' Dwyer, owner of Little Bee Bakery, has seen a big increase in demand for cookie gift boxes for Valentine's and Mother's Day. "They are proving to be more popular than our seasonal themed cakes," she notes.
When it comes to cookie-based treats suitable for special occasions, the chocolate confectionery market could be a great source of inspiration, suggests Natalie Drake, bakery category manager at Synergy Flavours. "Foodie consumers now look for something a bit more thoughtful and innovative in their edible gifts," she adds.
Little Bee Bakery has been inspired by questions for a new range of cookies launching next month, featuring wording such as 'Would You Like to Be My Bridesmaid?', 'Maid of Honour?' or 'Would You Marry Me?' They will be accompanied by 'Yes' or 'No' mini cookies so consumers can answer the question, take a picture and send their answer back, says O' Dwyer.
For a baker considering giving celebration cookies a spin, it would seem the answer should be a firm 'yes'.
On-trend cookies in 2020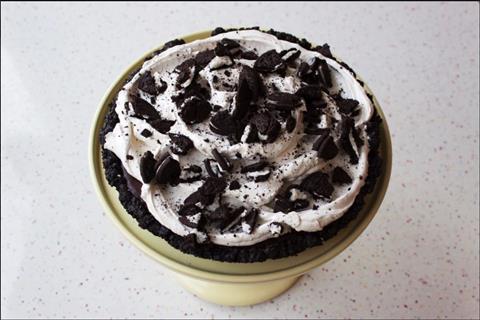 Primrose Bakery's Cookies & Cream Pie (£29.95) includes a crushed Oreo base with a 70% dark chocolate filling, marshmallow topping and crushed Oreos.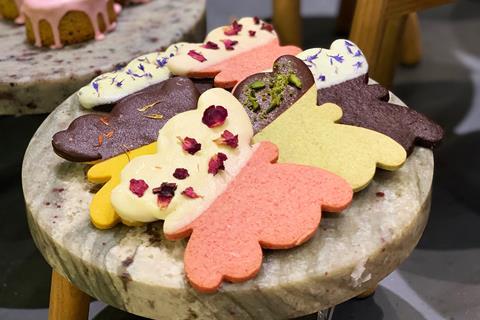 Gail's Butterfly Biscuits (£5.70) is a box of four chocolate butterfly shortbread biscuits, flavoured and coloured with matcha, turmeric, raspberry and chocolate, and decorated with dark and white chocolate, edible flower petals and pistachios.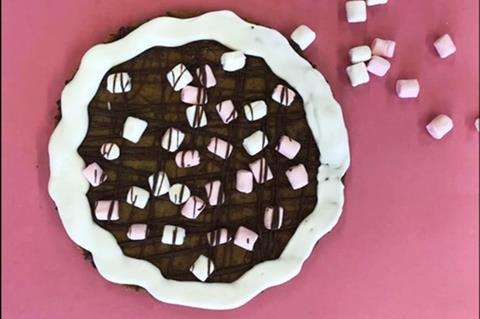 The S'more Cookie Pizza (£8) by Ooh & Aah comprises its Signature 7-inch Giant Chocolate Chip Cookie, topped with marshmallows and a milk chocolate drizzle.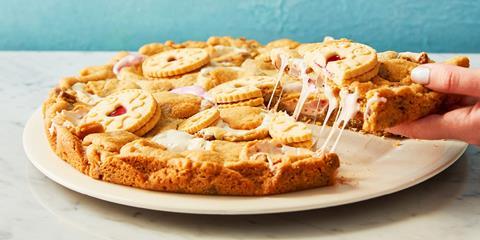 Millie's Cookies' limited-edition Stuffed and Loaded Cookie Pie (£26.99) comprises two 28cm/11-inch giant cookies filled with marshmallows, premium chocolate chunks and jammy heart biscuits.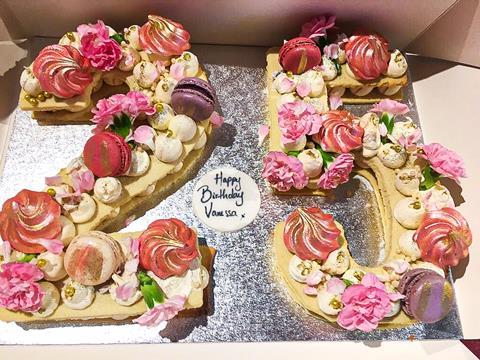 The 1.5kg Number Cookie Cake from Good Cake Day (from £104) consists of two-digit vanilla cakes, filled and topped with vanilla Italian meringue buttercream, strawberry macaroons, meringues and fresh flowers.