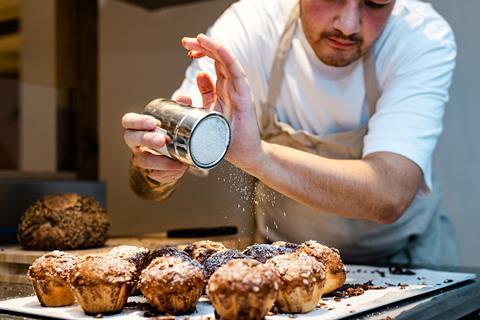 Gail's has launched a recruitment campaign promoting the benefits of working in a bakery.
The Early Bird Never Works Late campaign highlights that, unlike many hospitality staff, bakery workers don't have to work late into the night.
Gail's points out that its bakeries close by 7pm, and don't have double shifts like many hospitality venues with late night operations. It added that this means staff can then spend time with their family or enjoy their hobbies in the evenings.
The business is launching the recruitment drive in the face of fierce competition for hospitality staff, with many businesses struggling to attract and retain workers. Pret, for example, has this week announced its second staff pay rise of the year.
Gail's said more than a third of its management applications come from people who are working late and want their evenings back to improve their wellbeing and personal life. It quoted a recently hired manager who said: "I used to work full days and walk home after closing at 1am. Now I serve craft coffee to regular customers who know my name, I can see my friends and I get to exercise in the evenings. I can work in hospitality, which I love, while having a good work-life balance."
Gail's said expansion of its store estate was bringing opportunities for employees to advance, stating that more than 200 of its staff had been promoted in the past six months.
"We shouldn't rest until every community can choose craft," said Tom Molnar, CEO of Gail's owner Bread Holdings. "The ethos of a craft baker – to do everything to a high standard, pay attention to details, respect the ingredients and share widely – is an ethos we think is worth living by."
Molnar last year told British Baker the company had plans to double in size in three to five years, and the business has just acquired a new 70,000 sq ft bakery in Milton Keynes to help drive its expansion plans.