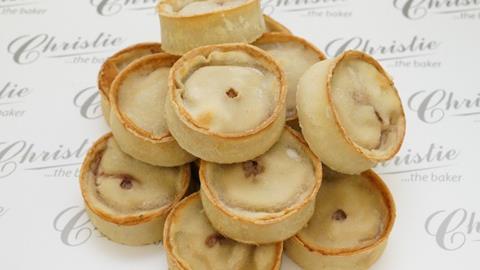 Andrew Chisholm, owner of Scottish bakery business JB Christie, explains how the business developed a thriving online delivery system at the most challenging of times.
The story so far
JB Christie Bakery, which operates in Airdrie and Coatbridge, has two shops as well as a bakery employing about 50 staff in the area. On 20 March, just before the lockdown was announced, we had no idea if anyone would use the service, so we set up a very low-cost option with just the basics. We created a shopping page with six products and a checkout. We went live on 21 March in the morning.
Day 1 – Saturday 21 March
We announced on social media that the shop was available for pickups and local next-day delivery, and, within minutes, had our first order.
Day 3 – Monday 23 March
The government announced the lockdown. With only nine orders and high street shop sales plummeting as footfall reduced dramatically, along with fears over social distancing, we decided to close the bakery, both the high street shops and the online store, and take stock. This break lasted seven days.
Day 10 – Monday 30 March
We decided to reopen online and try and make a go of it despite the challenges. We announced the reopening of the online store in the evening, offering delivery only. This was the start of an avalanche of orders – on day one of the reopening we took 73 orders.
We were concerned we would not be able to maintain our reputation with customers having to wait for delivery
Day 11 – Tuesday 31 March
In the first day-and-a-half we took 310 orders, with 73 on Monday and 236 on Tuesday. At this point, we started to worry about production and being able to deliver the next day. To overcome the production problems, we re-evaluated the delivery process and announced to customers we would have to change the delivery schedule. Next-day delivery was dropped, and we moved to a two-day delivery service. This gave the bakery time to produce orders for delivery the following day. We were concerned we would not be able to maintain our reputation with customers having to wait an extra day for delivery, but most people were understanding.
Day 12 – Wednesday 1 April
First delivery day, and we were focused on getting our 73 orders out. We had arranged with the owner of a local taxi firm to deliver the orders, and had managed to get the food produced and most of the bags packed for delivery by about 2pm. Aidan, our taxi man, started the deliveries and managed to get them all done by 8pm. It was not the most efficient process; we were learning as we went.
The bakery was being clogged up with bags containing people's orders and time was being consumed putting products into boxes and sealed in wrap
The next day we had 236 orders to get out. We recruited three more drivers and managed to get Busy Lizzies Florist, which was also suffering from the enforced lockdown, also delivering for us. We split the orders between the two postcode areas we were supporting. Production had been stepped up in anticipation. During the day, the JB Christie Bakery Online Store had received 259 more orders. It was taking off.
Space was then becoming an issue. Normally, the Christie vans ferry products between the bakery and the shops throughout the day, with products being transported in bread trays. The bakery was being clogged up with bags containing people's orders and time was being consumed putting products into boxes and sealed in wrap. More solutions to find.
Day 13 – Thursday 2 April
With production better planned and bag packing started earlier, we were able to start the deliveries by 10am. We were operating six taxi vehicles and Busy Lizzies' two. With the earlier start and more vehicles, the orders were delivered by 8pm that night. Not good enough. With a bit of thought and re-engineering of the Shopify platform, we were able to reorder each day's deliveries according to postcode. This meant less to-ing and fro-ing for the drivers as they would have all close-together orders in a batch. The online shop went berserk with 335 new orders for delivery on Saturday, and we began to worry about the volume of orders.
As we weren't delivering on the Sunday or Monday, we could potentially have about 900 orders to produce on Monday to go out on Tuesday. This was not feasible, so we thought we would have to cap the number of orders somehow. But we also didn't think this was a good idea as it disappointed customers and sent the wrong message.
Online ordering is about convenience and availability and, by preventing access, we would be alienating our customers. We discussed all the challenges associated with the problem and came up with a temporary solution whereby the bakery would come in and do a production run on Sunday to facilitate the Friday and Saturday orders to be delivered on Monday. Over time, we would re-evaluate this and adapt the bakery processes to cope with the new seven-day-a-week operating model to deal with online orders. Takings today exceeded normal high street shop levels by about 20%
With the adaption to the order printing, more cars and an earlier start, all orders were delivered by 3pm
Day 14 – Friday 3 April
With the adaption to the order printing, yet more cars on the road and an earlier start (7:30am), all orders were delivered by 3pm. Much better. By this point, the customer queries had all but dried up. We got the odd query where items had been missed from an order and a few about orders that customers had thought had been placed but hadn't, due to payment issues on the old system. The new Shopify system was proving to be more robust and informative. Today brought another 233 new orders. Fingers were crossed that the 335 orders would go out tomorrow without a hitch.
Day 15 – Saturday 4 April
No production today. Packaging and order preparation mainly, with deliveries beginning at 7:30am. Aidan had six cars on, and Busy Lizzies had three. Both groups performed efficiently. By now, we had worked most of the kinks out, and were able to focus on setting up the delivery side of the business for life beyond Covid-19. We were continuing to focus on improvements that could be made to the production side, as well as creating an area where the hundreds of packed bags were out of the way of the busy bakery production floor. Thankfully, today's new order count was down to 157. The combined Friday/Saturday count was sitting at 390, which should be manageable now production is at full strength.
Day 16 – Sunday 5 April
No deliveries today. Sunday is the normal rest day for the bakery and used as an overflow period as required. This week was one of those periods, so a shift was in to produce the necessary products for tomorrow's delivery. New orders today were much lower and very welcome, as it would allow the bakery to take stock and prepare for the coming week. At the end of a full week's trading, we confirmed that the online shop's takings almost matched the takings by Christie's two bricks-and-mortars shops before Covid-19.
What's next?
As lockdown continues, we are working over the coming week to further refine the processes. We are expecting the level of orders to drop to a more manageable level, now that the initial excitement is over and customers establish their own routines. However, we are still getting new customers on the site so there may still be some growth in the day-to-day order volumes. In the coming weeks, we will be gradually increasing the products available online and will monitor its effect on both buying patterns and production. We will be focusing on the long-term strategy for trade orders, the existing high street shops and the online business.
The JB Christie team has worked extremely hard and adapted to a continually changing landscape without complaint. Without them and their desire and willingness to work during these unsettled times, we would not have been able to achieve what we have.