A Parmesan & Black Pepper Sourdough Loaf from Bakerman in Darlington has been crowned Britain's Best Loaf 2022.
It fought off stiff competition from loaves across six categories – Gluten Free, Innovation, Plain Sourdough, Sourdough with Other Ingredients, White and Wholegrain – to secure the ultimate accolade.
The sourdough, which took the top spot in the Sourdough with Other Ingredients category, was praised by the judges for its bold flavours as well as punchy aroma and the technical expertise it displayed.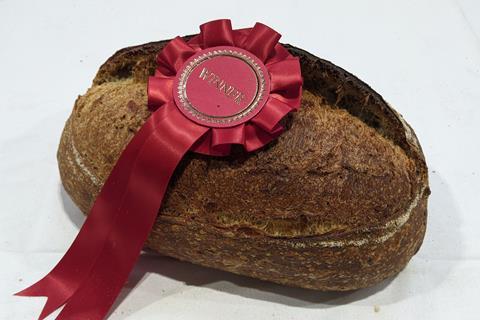 "I had a good feeling when I was making the dough," said the winning baker, Dan Booth of Bakerman. "It felt great and came out of the ovens lovely in the morning so I thought I was in with as good a chance as I could give myself, but there are always brilliant bakers here so I'm delighted to have won."
British Baker editor Amy North congratulated all of the bakers of the competition's winning and highly commended loaves. "We were thrilled with the quality and quantity of the loaves entered," she said. "It was fantastic to see the passion, skill and innovation from Britain's bakers shining through.
"I'd also like to extend a huge thank you to the judges and sponsors who made the day possible."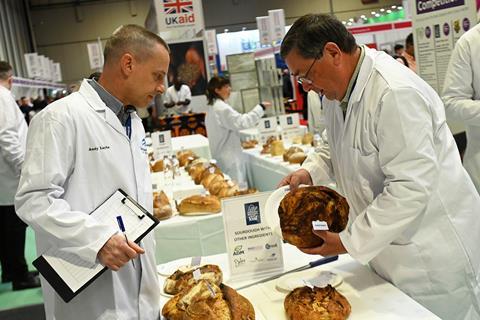 Britain's Best Loaf 2022 – sponsored by ADM, Bako, Lesaffre, Brook Food, Délice de France and Food Paper – took place on 25 April at the Farm Shop & Deli Show at NEC Birmingham. The judging line-up comprised:
Alexandra Vaughan, owner/head baker, The Crow's Rest Bakehouse
Amy North, editor, British Baker
Andrew Layte, technical sales manager, Lesaffre
Anna Perz, research and development manager, ADM Milling
Clare Barton, owner and head baker, Bakehouse at 124
Clare Powell, technical baker, Bako Group
James Maye, product manager/baker, Delice de France
Lee Smith, baker and owner, Poppyseed Bakery
Martin Hunt, owner, Joe's Bakery
Mike Holling, retail sales director, Birds Bakery
Neil Woods, president, Craft Bakers Association
Steve Wells, managing director and owner, Brook Food
William Leet, bakery development technologist, David Wood Foods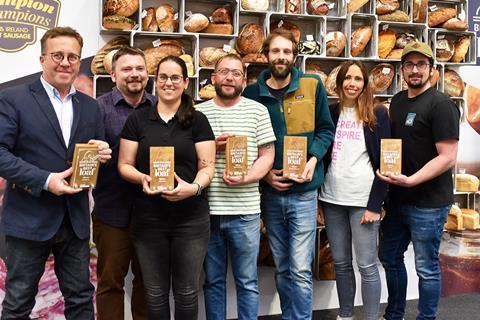 Here's the full list of winning and highly commended loaves:
Gluten Free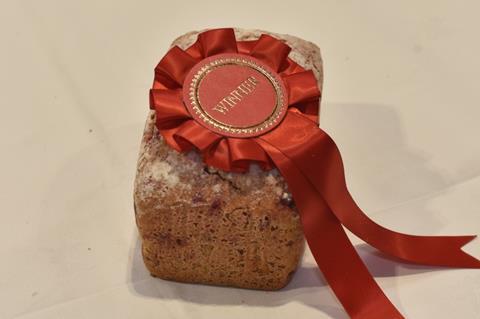 Winner: Smoked Beetroot & Sweet Chilli Loaf, Stir Cambridge
This is a colourful, smoky flavoured tin loaf made with gluten free flour (rice, potato, buckwheat, millet), water, smoked beetroot, sweet chilli, sugar, extra virgin olive oil, yeast and salt.
The judges described it as an "attractive looking loaf with a great taste". It was praised for its innovative use of ingredients and their even and plentiful distribution.
Highly Commended: Gluten Free Seeded Loaf, Two Magpies Bakery
Also singled out for praise from the panel was this tasty loaf made with linseed, millet seed, brown rice flour, oat flour, tapioca flour, egg white, jumbo oats, sunflower seed, pysllium husk, treacle, sunflower oil, cider vinegar, salt and yeast.
Innovation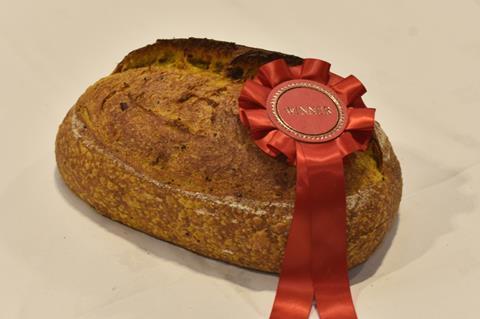 Winner: Turmeric, Red Onion & Nigella Seed Sourdough, Bakerman
This is a slow-fermented, traditionally made sourdough loaf produced over the course of 48 hours using organic strong white bread flour, stoneground wholemeal flour, organic red onions, organic turmeric, organic nigella seeds, wheat levain, sea salt and water.
Created following a wholesale customer's request for an 'Indian inspired' open sandwich, this nicely baked loaf stood out thanks to its enticing aroma and vibrant colour, with the judges also praising its beautful appearance.
Highly Commended: Turmeric Sourdough with Cranberries and Walnuts, The Baking Room
The judges in the Innovation category were also impressed by this golden-coloured loaf featuring white wheat and wholemeal flours, turmeric powder, cranberries, roasted walnuts and semolina.
Plain Sourdough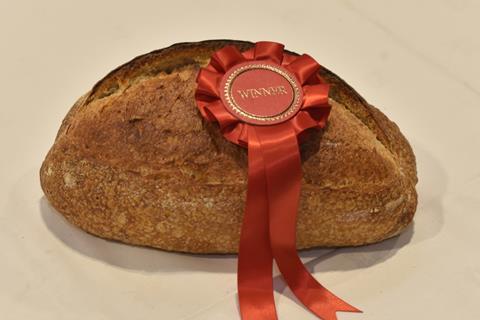 Winner: Everyday Sourdough, Bakehouse at Cakesmiths
Shaped into cane baskets after three hours of bulk fermentation and left to prove at ambient temperature for one hour prior to being cold proved for 18 hours, this loaf is scored straight along the top to produce an ear for acetics and to help control the shape and ultimately the quality of the crumb structure.
This "ticked all the boxes for a wonderful plain sourdough", according to the judging panel, who praised the loaf for its nice crust, attractive appearance and balanced flavour.
Highly Commended: White Sourdough, The Danish Bakery
Also winning plaudits from the panel, this loaf features a good balance between lactic and acetic flavours, with a mostly open crumb structure and a crisp crust.
Sourdough with Other Ingredients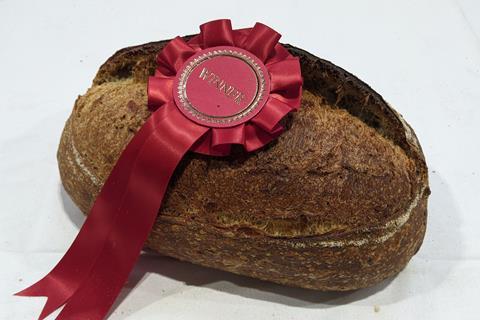 Winner: Parmesan & Black Pepper Sourdough, Bakerman
The ultimate champion of Britain's Best Loaf 2022 brought strong aroma and flavours to the competition. It's a traditional slow-fermented sourdough made over the course of 48 hours with added parmesan and cracked black pepper. The loaf is made with organic strong white flour, organic stoneground wholemeal flour, organic parmesan, organic cracked black pepper, wheat levain, water and sea salt.
"It was just something I thought of one day and thought would be a delicious concoction for bread, and since then I've been tweaking the ratios and flours," explained the loaf's creator, Dan Booth of Darlington-based organic community bakery Bakerman. The business, which has been running for around 18 months, specialises in sourdough and also supplied the winner of the Innovation category in this year's competition.
"The Parmesan & Black Pepper Sourdough has been a work in progress for the last five or six years so I'm delighted we've finally nailed it," Booth added.
The pepper provides a punchy kick which complements the parmesan, according to the judges, who were also impressed with the overall look of the loaf as well as the quality of the internal structure.
Highly Commended: Fruity Botanical Sourdough, Country Style
This light and zesty loaf incorporates lemon oil, orange zest and turmeric, while sultanas balance the sweet citrus and sour notes.
White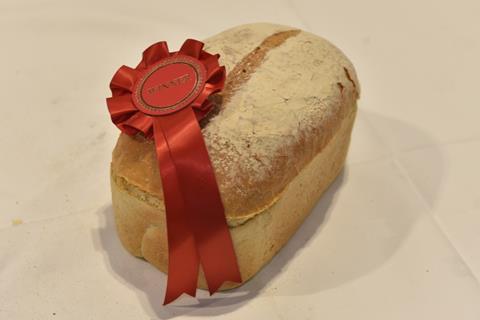 Winner: White Farmhouse Loaf, Elsie May's Cafe, Bar & Bakery
Triumphant in the White category was this traditional farmhouse loaf made using Shipton Mill strong white flour, water, yeast, Cornish sea salt and vegetable oil.
A good prove and good bake resulted in a soft white loaf which impressed the judges for its taste, appearance and strong consumer appeal.
Highly Commended: White Tin Loaf, Seasons Bakery
Also judged praiseworthy by the expert panel was this simply delicious loaf from Ingleton-based Seasons Bakery.
Wholegrain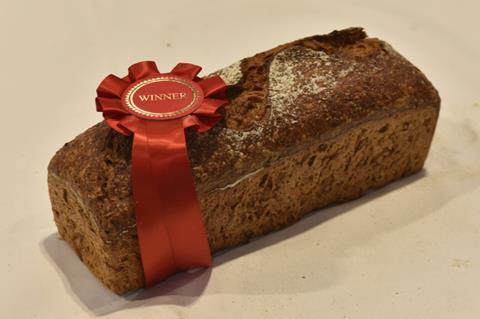 Winner: Malted Barley Sourdough, Lovingly Artisan
This loaf is created using brewers barley from Warminster Maltings. Organic otter barley is sprouted on the malt room floor, lightly roasted, then crushed and cooked into a porridge, realising the malty flavours. This is then hand folded into white sourdough.
The rustic look and delicious flavour made the loaf a standout in the Wholegrain category, according to the judges.
Highly Commended: Watford Sour, Flourish Craft Bakery
This loaf, created during lockdown, is a blend of four different kinds of flour: white, malted, wholemeal and dark rye, to offer a moist and flavoursome bake.