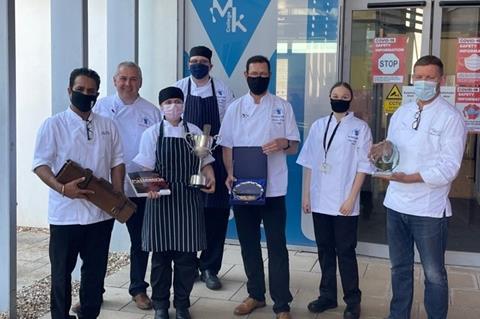 Caitlin Kemp-Powell has been crowned The Master Chefs of Great Britain 2020/21 Young Pastry Chef of the Year.
The Farnborough College student, who is studying a level three B-Tech in patisserie and bakery, impressed the judges with a white chocolate bavarois dessert featuring lemon puree, crisp lemon sponge, dill, and pickled cucumber served in a decorated white chocolate shell and rye meringue.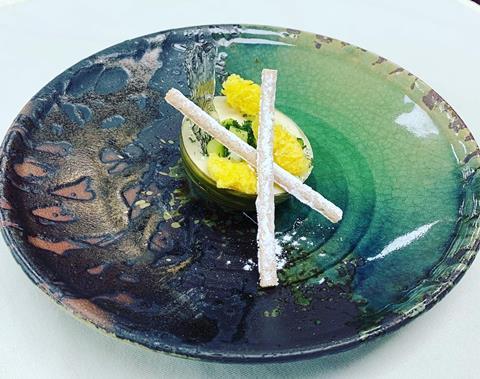 She was credited for "a stunning dish full of great techniques – texture and balance of flavours".
The finalists had been tasked with producing a plated restaurant dessert comprising a moulded flavoured ganache petit fours, pate de fruits, Florentine biscuits and a small centre piece using Felchlin chocolate to accompany the petit fours.
Judges included Benoit Blin, chef pâtissier at Le Manoir Aux Quat Saisons, Jerome Dreux, sales development chef at Town & Country Fine Foods and Jasbir Dawar, executive head chef Hilton, London Heathrow Airport.
"This is a fantastic competition that helps promote and develop young pastry chef in the industry and we really had excellent standards in the final this year," Blin said.
Graeme Watson, vice chairman of The Master Chefs of Great Britain, added: "I have watched with great pride as this competition grows in stature. It was heart-warming to see the skills showcased by our young chefs in the 2020/21 young pastry master chef final and what an absolute privilege to embrace the depth of young pastry chef talent we have in the UK."
Kemp-Powell was awarded the David Lyell Scholarship Trophy, an engraved silver salver, a £250 cash prize, a Master Chefs of Great Britain glass trophy, and a Chefi knife case roll.
Runner-up Chloe Hammond received £150 plus Chefi gifts and Mark Barnes placed third taking home the latter and £100.
Event organisers took the decision to amalgamate the 2020/21 accolades after 14 months and four attempts to hold the event which was delayed due to Covid-restrictions.