These companies are hoping it'll be love at frost sight as they seek to spread some yuletide cheer with their seasonal NPD.
From deer-ing doughnuts and cracking savoury pies to festive frozen cheesecakes and Elf on the Shelf-themed sponges, there's plenty to choose from.
British Baker rounds up the latest innovations.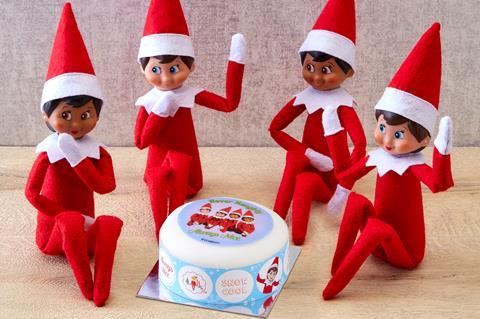 BBF
BBF, the ambient cake and dessert manufacturer, has teamed up with Rocket Licensing and The Lumistella Company to unveil The Elf on the Shelf Mini Gift Cake.
Available in four different designs, the Madeira sponge is filled with a fruity plum and raspberry jam and covered with soft icing and an edible plaque. It also features a detachable collar of The Elf on the Shelf-inspired stickers.
"While Christmas will of course be different this year, we look forward to helping families keep exciting traditions like this alive by building on the existing brand," said Jonathan Lill, chief executive officer of BBF Limited.
The cakes are on sale in Asda (£4 each).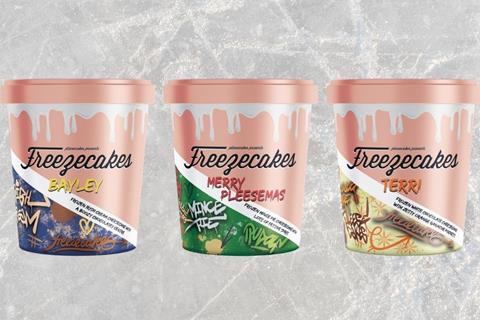 Pleesecakes
The online cheesecake supplier has spruced up its traditional offer with limited-edition frozen variants made from an artisan cream cheese mix served in a tub. The 100ml Festive Freezecakes range comprises:
Merry Pleesemas – featuring crushed mince pies, mincemeat, shortbread chunks, and a topping of festive sprinkles and mini fudge pieces.
Terri – comprising a white chocolate orange centre, shortbread chunks, and a white chocolate, fresh orange zest and shortbread crumble finish.
Bayley – boasting a gooey chocolate Irish cream core, chocolate biscuit chunks and a chocolate Irish cream ganache and chocolate chip topping.
The Freezecakes, sold in boxes of six (£21) or as a set of nine (£27), are available online or via UberEats, Just Eat and Deliveroo hubs in selected locations.
The Two Magpies
The Suffolk-based bakery has enhanced its Christmas range this year with a Cinnamon Swirl Butter, made from cinnamon buns and caramelised white chocolate.
Described as perfect for toasting, it costs £4.50. Joining the line-up is a Panettone with Figs, Dark Chocolate and Pedro Ximenez Sherry (£12) and a Two Magpies Festive Hamper brimming with mince pies, rye sourdough crackers and jam (£55).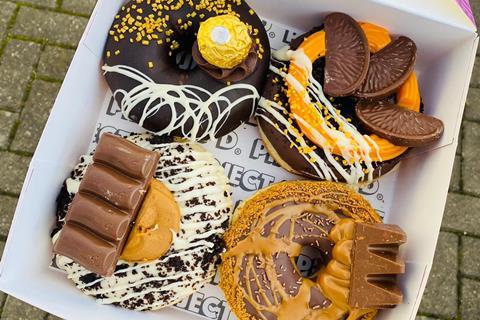 Project D
Derby-based luxury doughnut maker Project D has created two yuletide boxes (£11), each containing four Christmas-themed doughnuts.
The Naughty List box features:
Run-away Rocher, a doughnut dipped in sweet dark chocolate and topped with golden sprinkles, a rosette of milk chocolate butter cream and a Ferrero Rocher.
It's Not Terry's, It's Yours!, a milk chocolate-coated doughnut, capped with a ring of orange cream, three Terry's segments and lashings of white chocolate.
Gravitational Galaxy, a white chocolate glazed doughnut featuring a salted caramel frosting, chocolate cake and four chunks of Galaxy caramel.
Home Alone with my Toblerone, a milk chocolate-dipped doughnut, rolled in Lotus crumb then drizzled with Lotus spread.
The Festive Feast box contains:
The 8 O'Clock, a white chocolate-glazed doughnut accompanied by two pieces of After Eight and a handful of sprinkles.
The Match Made, a combination of milk and white chocolate topped with milk chocolate butter cream, two salted caramel Matchmakers and a Malteser.
Festive Homer, a white chocolate-glazed doughnut covered in Christmas sprinkles.
Lead The Way, the brand's signature ring doughnut dipped in salted caramel, covered in shortbread and white chocolate curls then topped with a Malteser reindeer.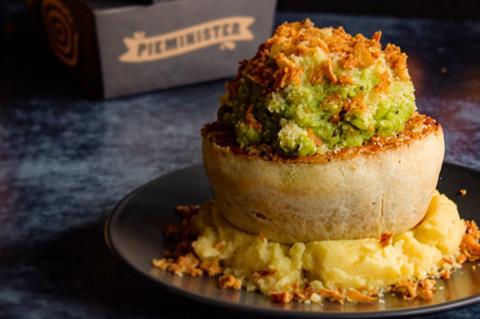 Pieminister
Pieminister has launched a limited-edition Festive Mothership Kit (£40) for four people. The boxes contain four pies, four portions of mash, four servings of minty mushy peas, crispy onions and cheese, gravy and cooking and assembly instructions as well as a £5 gift voucher to spend at any of the brand's restaurants.
In addition, Pieminister is donating £4 from the sale of each pack ordered online to FareShare South West to help fight hunger and food waste.
"Since April this year, we've donated over 40,000 pies to this incredible charity but the need for donations has never been greater," said Jon Simon, Pieminister co-founder and managing director.
"FareShare South West has stepped up in a crisis to bridge the food gap caused by Covid-19, and through sales of these mothership kits, we can offer further support during this challenging time for so many."
Pieminister's limited-edition Festive Gift Box of 4 Pies, the flavours of which can also be selected as part of the Festive Mothership Kit, have also made a return for 2020.
The box costs £15 and features Mistlemoo (made with British beef steak, free-range British bacon & port), The Cracker (free-range British turkey & ham), Christingle (honey roast parsnips, cheddar & chestnut) and the plant-based Good Elf (vegan 'turkey', cranberries & port).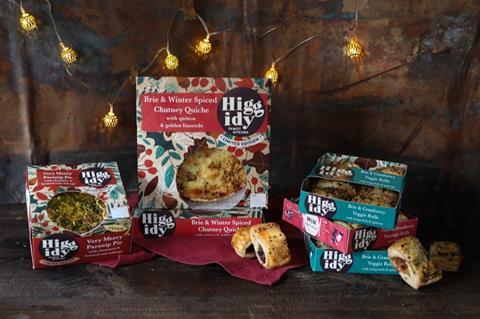 Higgidy
Premium pie and quiche brand Higgidy has unveiled a limited-edition winter range aimed at celebrating the flavours of the season and taking the hassle out of cooking from scratch.
Pork & Cranberry Rolls, Brie & Cranberry Veggie Rolls, a Very Merry Parsnip Pie and a Brie & Winter Spiced Chutney Quiche are available from Waitrose, Ocado Sainsbury's and Tesco with prices ranging from £2.60 to £4.25.
"We know from insight, which we've also seen in various features and articles, that many people will be looking to have a more traditional and nostalgic Christmas this December," said Camilla Stephens, co-founder of Higgidy.
"Our new winter range aims to bring a touch of comfort and joy into homes this year, inspired by the nation's favourite classic winter staples, but with a fresh Higgidy twist."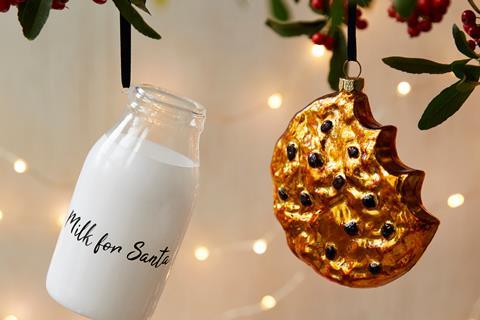 Blondie's Kitchen
London-based milk and cookie bar Blondie's Kitchen has created a Christmas Bundle Box. Available online for £65, the hamper features 12 cookies, six mince pie cookie cups, an oatmeal & raisin ready-to-bake cookie dough roll and a Milk & Cookie Glass Bauble set.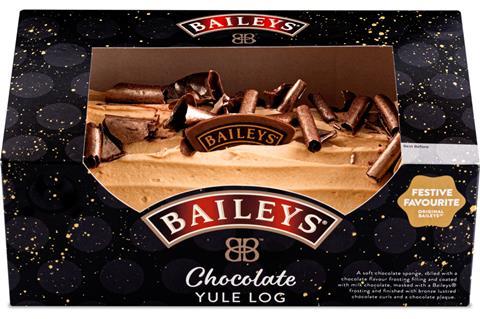 Finsbury Food Group and Diageo
Finsbury Food Group has extended its range of Baileys-licensed products with a collection of alcohol-infused cupcakes and snack bars.
Joining the Baileys Yule Log (£5), which has returned for 2020, are 4 Baileys Chocolate Treat Blondie Bars (£1.50) featuring a blondie sponge filling finished with Baileys frosting all wrapped in a thick layer of milk chocolate, and 9 Baileys Salted Caramel Mini Cupcakes (£4), a chocolate sponge topped with Baileys flavour frosting and a caramel drizzle.
The full range is being sold in Asda, with selected products available in Tesco, Co-op and Sainsbury's.
To see what the UK's biggest retailers and brands have planned for their wider Christmas ranges, click the links below: