Branston pickle, mustard, brown sauce and, er, baked beans are among Brits' favourite accompaniments to pork pies, according to a recent survey by Pork Farms.
The survey saw 2,082 adults questioned about their pork pie consumption habits, specifically what they eat them with.
It found that 60% of pork pie consumers enjoyed theirs with at least one side. Branston pickle topped the poll with 21% of the vote, followed by mustard at 18%, salad at 10% and brown sauce with 7%. Enjoying pork pies as part of a ploughman's lunch also secured 7% of the vote.
A further 10% said they enjoyed their pork pies with hot sides, such as chips, gravy and baked beans. This serving was favoured among younger generations with nearly a third (31%) of 18- to 24-year-olds enjoying pork pies with a hot side, compared to 5% of those aged 55 and over.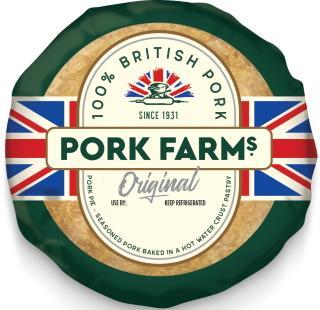 Meanwhile, older consumers were more likely to serve with pickles. Nearly 40% of those aged 45-54 who ate pork pies with sides preferred pickles compared to just 13% of 18- to 24-year-olds.
"There's no doubt that pork pies are classic British fridge-staples, with over half of UK shoppers having purchased at least one of the lunchbox, picnic and buffet staples within the last year. We've also seen these figures grow by an additional 6% within the last 12 weeks, so it is really interesting to see the vast differences in people's preferences dependent on their age, demographic and location," said Mike Holton, brand manager at Pork Farms.
The brand, which is owned by Addo Food Group, has recently undergone a refresh to focus on the company's heritage and use of 100% British pork. The new design has been rolled out across its social media, website and marketing, as well as new packaging which can be seen on shelves now.