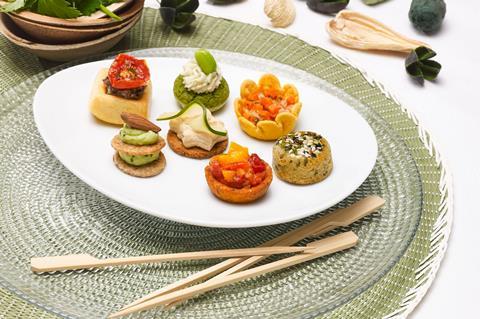 French pâtissier Tipiak is targeting UK caterers with a 'thaw and serve' range of bite-sized vegan-friendly finger foods.
The Tipiak Vegan Cocktail Selection includes almond cream and edamame bean on pea and mint muffins, carrot, lemon and ginger mousseline mini tarts, sesame hummus and courgette tagliatelle on courgette and pine nut shortbread and piquillo and sweet pepper tomato tarts.
Produced and hand-finished in France, the Selection is presented on gold-coloured recyclable cardboard trays. It is available frozen from distributor Central Foods.
"The new Tipiak Vegan Cocktail selection is a world first for us, bringing something unique to the table," said Marie-Emmanuelle Chessé, international development project manager at Tipiak.
"The demand for vegan-friendly products in the food service sector and interest in plant-based items generally has grown enormously in the UK in recent times."
Each Vegan Cocktail Selection box contains 36 individual pieces across seven different varieties.
Tipiak has been supplying its authentic 'thaw and serve' canapés in the UK since 2009.