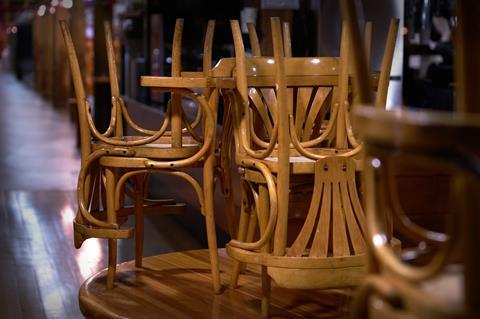 From Saturday 4 July, cafés, pubs and restaurants can open their dining areas to customers.
'Super Saturday', as it has been dubbed, has been welcomed by a foodservice industry desperate to recover from the financial damage done during lockdown.
But opening dining areas to the public brings with it huge challenges, so it is understandable that even some of the country's largest bakery and café chains have decided not to do so.
Here are what some businesses are doing from 4 July:
Costa
Number of stores (1/1/2020): 2,787
Opening seating areas? No
Has re-opened more than 1,100 stores operating as take-away only.
The business said it is continuing to review how to safely expand its services in line with government guidelines.
Subway
Number of stores (1/1/2020): 2,577
Opening seating areas? No
Stores are currently not offering a dine-in service, and are open only for order and collection services via the Subway app or in-store takeaway services.
"By closing the dine-in areas, the franchise owners were able to create more space in their stores to make social distancing easier to implement," said the business.
Greggs
Number of stores (1/1/2020): 2,050
Opening seating areas? No
Greggs currently has no plans to open seating areas.
Caffè Nero
Number of stores (1/1/2020): 819 (total Nero group)
Opening seating areas? Yes
Caffè Nero is opening 400 stores for eat-in from 4 July. The stores will open with protocols in place to ensure its employees and customers remain safe and in accordance with government advice and social distancing guidance. The stores will offer coffee and other items such as pastries alongside an initially reduced food menu.
"We've seen high demand since we've started opening for takeaway and our teams are excited to welcome customers back properly," said founder and CEO Gerry Ford.
"We have prioritised protecting the health and wellbeing of our people and our customers in setting these stores, while also providing safe, friendly community spaces as the country starts to reopen. We have taken clear steps and followed government guidelines to ensure that is the case".
Pret a Manger
Number of stores (1/1/2020): 400
Opening seating areas? Yes
Pret is opening the seating areas in all its shops in England from 4 July, with more limited capacity.
The business is taking a number of steps to support social distancing in the seating areas and keep customers and staff safe, including:
· Tables will be spaced one metre apart
· Tables will allow a maximum of four people to sit together
· Tables and chairs to be sanitised after every use
· Only tables that have been vacated by customers can be cleared
· Staff should wear a face mask when working in the seating area
· Handwashing must be carried out after any front-of-house duties have been completed and before moving on to a different task
· Trays are to be sanitised or washed in the dishwasher after each use.
Coopland & Son (Scarborough)
Number of stores (1/1/2020): 173
Opening seating areas? Yes
Cooplands' estate comprises 161 shops across Yorkshire, Lincolnshire and the North East, many of which have been open during lockdown. It also has 12 cafés that have been closed.
From 4 July, the company is opening two café sites, in Cottingham and Hull City Centre, to customers for dining. The remaining 10 café sites are set to open over the following few weeks.
The following steps have been taken to maximise safety for customers and staff:
All customer are asked to follow one way systems and stand on circles on the floor to keep a safe distance from others. An entry and exit system for customers using arrows has been introduced
Lifts are for one person or same family or bubble use only
Perspex screens have been fitted along the servery. Self-service is not available as staff will be serving customers directly from behind a counter
Customers are encouraged to pay cashless
Reduced numbers of tables to ensure social distancing between them
All contact surfaces to be sanitised at least once a hour
Staff will be ensuring a two-metre distance between each other, and where this is not possible additional PPE will be worn. Staff serving food at the tables and clearing tables will be wearing face shields. Staff will only clean tables once the customers have left
All customers will have to provide contact details for track and trace purposes. These will be securely stored for 21 days
All staff will be wearing disposable gloves when preparing food
All cafes have had an individual Covid-19 risk assessment completed and a safe system of working devised
All staff have been informed of the risk assessment and received appropriate training to ensure theirs and the customers safety
Counter serving staff will be hand sanitising after each customer
There will be automated hand sanitising dispensers as the customers enter the café, which all customers will be encouraged to use.
Patisserie Valerie
Number of stores (1/1/2020): 75
Opening seating areas? No
It is currently reviewing the situation.
Birds Bakery
Number of stores (1/1/2020): 65
Opening seating areas? No
No current plans to open any seating areas but is reviewing the situation.
Gail's Limited
Number of stores (1/1/2020): 58
Opening seating areas? Yes (outside only)
From 4 July, Gail's is opening its outside seating areas