As the nation struggles to get enough fibre, Britain's bakers are presented with an opportunity to enhance their loaves to fill the gap.
Britain is facing a severe fibre deficit. A recent study by the University of Dundee found only 9% of UK adults consume the recommended 30g a day of dietary fibre.
This is a stark finding considering the study, commissioned by the World Health Organization, also showed that a fibre-rich diet can reduce the rates of coronary heart disease, stroke and colorectal cancer.
Bread is often touted for its fibre content, but with a deficit that high, there's room for improvement.
"Typical fibre content for standard bread flour is a relatively low at 3.3g per 100g. That means a slice or two of ordinary white bread doesn't make much of a contribution to the recommended daily 30g of fibre," explains Gavin Mulligan, NPD manager at ingredients supplier Edme.
So, where does the responsibility lie for boosting the nation's fibre intake? And, what options do bakers have when it comes to offering a helping hand by increasing the fibre content of their loaves?
Carb-bashing seems to have become the default position for many
"Carb-bashing seems to have become the default position for many; yet a recent YouGov poll found that our most-beloved British foods are nearly all flour-based," says Priya Nicholas, communications manager at National Association of British and Irish Flour Millers (Nabim). "The industry has its work cut out to position flour as a desirable and healthy ingredient against this love/hate backdrop."
To help with this, Nabim launched FibreFebruary – a campaign designed to highlight the nutritional benefits of flour and flour-based products, such as bread. Companies from across the industry took part to promote the 'eat more fibre' message with videos, recipes and more shared via social media.
Make it easy for consumers
While consumers can do more to choose products with a higher fibre content, bakers can help make these products more readily available, and shout about their benefits.
"All wheat flour contains fibre – wholemeal flour is naturally high in fibre but high-fibre white flours or 50-50 flours are also available," adds Nicholas.
With over 400 types of flour produced by UK millers, according to Nabim, there are a myriad of options. But, of course, it's not a simple process of swapping one flour for another – often a blend is needed. "Malted wheat flour, for example, contains 9.5g of fibre per 100g," notes Mulligan, who also highlights the high fibre content of dark malt flour, malted rye and whole barley flours.
"Since you need a relatively small inclusion of malted flour to improve the colour and flavour of products, there's an impetus to explore and introduce other high-fibre ingredients which range from pulse flours and seed mixes to flakes and kibbles."
Flaked grains, such as spelt flakes, are one option to boost fibre and can be used to top baked goods or blended within the dough.
Family-owned cereal and seed supplier Silvery Tweed highlights growth in higher-fibre products in general, as well as in the use of flakes and kibbled grains. Managing director Bob Gladstone also notes growth in recent years in barley flour – a product that has a fibre content of around 22% and what he describes as beneficial levels of beta-glucan. "As well as increasing overall fibre levels, beta-glucan can help create a 'softer for longer' product during normal shelf life," Gladstone says.
He adds that barley flour can increase the water absorption in the mix, which means extra water needs to be added to the formulation, as well as extra ingredients, such as wheat gluten, to compensate for the non-functional protein in the barley flour.
High fibre = healthier bread?
But it's not as simple as choosing flours that have a high fibre content, believes Kate White, head of marketing and product development at Craggs & Co. "Choosing flours with a fibre content will obviously increase the fibre in the finished product. However, what needs to be investigated is the fibre type (soluble or insoluble) and the glycaemic levels. Simply increasing the fibre content doesn't necessarily make it a 'healthier' bread," she says.
White points to flours made from ancient grains – such as spelt, rye, emmer and einkorn – as one solution to this, noting their low glycaemic index and high levels of fibre. However, these properties come at a higher cost and, while they bring a host of flavours and textures, they also present challenges to the producer, so White advises that recipes be adjusted in a slow, controlled manner.
Simply increasing the fibre content doesn't necessarily make it a 'healthier' bread
Wholegrains, according to the Baking and Cereal Processing team at Campden BRI, bring their own challenges.
"Inclusions added in a dry form may start to absorb water after the baking process and dry them out. If seeds or other ingredients are pre-soaked they may release moisture during/after baking, which increases the moisture and water activity within the crumb structure – this would impact on shelf-life," explains Laura Sherwood, bakery technologist, Campden BRI.
They also bring additional pressure to the dough, so Sherwood advises ensuring the strength of dough is up to the task, otherwise the structure could collapse.
"The simplest route to fibre enrichment is to select wholemeal or whole grain flours; however, this route is not always ideal," notes Dr Jonquil Dawson, UK formulator, ingredients supplier Lesaffre, who adds that alternatives may include novel fibres, flours from other seeds or cereal sources.
However, the main challenge of doing so is ensuring the dough is still processable through the standard bakery process. "To achieve this, we would consider rebalancing the dough conditioners used within the recipe, so that the fibre used may then be incorporated into a premix or concentrate providing both the fibre and improver function," Dawson adds.
Making up the nation's fibre deficit clearly isn't going to be a straightforward task, but bakers have a lot of tools at their disposal to help them bridge the gap.
Try keeping your finger on the pulses
Beans and pulses, in their raw state or as flour, are known for their high fibre content.
Chickpeas, for example, boast 17g of dietary fibre per 100g, while kidney beans have 25g.
"Chickpea flour and gram flour offer higher fibre levels than white flour, as well as extra protein," says Clare Marriage, CEO at organic flour specialist Doves Farm. They are, she adds, naturally gluten-free, but this could impact crumb colour, loaf volume, water absorption and machinability.
"Bakers will also develop their own preferred percentage rate of speciality flour to be added to white bread flour, which can be between 5% and 20% depending on the item being produced."
Beans and pulses also have strong flavour notes, according to Gavin Mulligan, NPD manager at Edme. "They are fine to use in small quantities alongside other wholegrain ingredients to boost fibre and protein without changing familiar and well-loved flavour profiles," he says. "Or you can use them in larger quantities for specialist and ethnic products where the nutty, beany notes complement and enhance flavours that used to be seen as challenging but are rapidly becoming mainstream."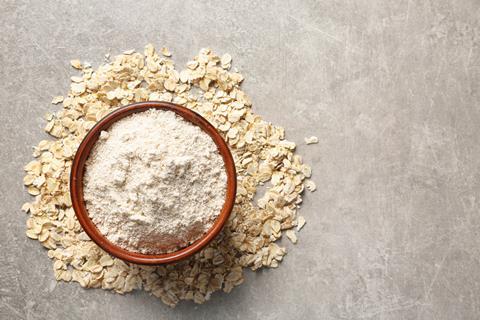 Sugar out, oat fibre in?
Increasing the fibre content of baked goods has a multitude of health benefits, but also brings with it functional ones.
"The Department of Health has laid down the gauntlet to the food industry, challenging it to reduce calories in products by 20% by 2024. Increasing fibre levels in products is an efficient and effective way of helping meet this public health requirement," says Gavin Mulligan, NPD manager, Edme.
Along with reducing calories, fibre has an impor-tant role in replacing sugar by adding bulk and viscosity.
These include oligosaccharides and chicory root fibre, known as inulin, but oat fibre is of particular interest to the baking industry at present.
"Some types of oat fibre can bring back these physical characteristics of a product and contribute to a good mouthfeel. Oat fibres absorb high levels of moisture, a role that is also played by sugar and can be taken over by fibre," explains Laura Sherwood, bakery technologist, Campden BRI.
"However, oat fibre cannot act as a sweetener and does not have the same water activity-lowering property as sugar. Therefore, it affects the mould-free shelf-life of cakes."
Scientists seeking to boost fibre content in white bread
Getting consumers to switch from sliced white to a wholesome wholegrain loaf is no easy task. That is why researchers at government-backed The Quadram Institute in Norwich are looking to create healthier white bread and wheat-based products by modifying the starch in wheat.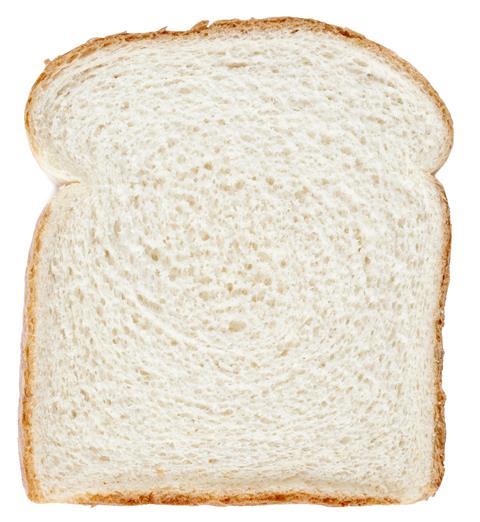 As a staple crop, wheat provides around 20% of the calories consumed by the world's population. And, while there isn't a particular problem with the starch quality itself, the issue is that consumers are getting too many calories, while not getting enough fibre.
The average UK adult consumes 18g of fibre a day – well under the 30g recommended daily target.
"It's apparent consumers prefer white bread, for a number of reasons, including taste but also price. Our challenge is to develop wheat and products derived from that wheat that match these consumer preferences but deliver the health benefits from higher fibre and resistant starch," Dr Brittany Hazard, research leader at The Quadram Institute, explained to British Baker as the research got under way last year.
In simple terms, the main aim of the research is to alter the starch structure in wheat, so it isn't as easily broken down by the body.
"Most of the starch in standard white bread is broken down into sugars quickly in the small intestine. This, in turn, releases sugars into the body quickly, causing a sugar spike. By slowing down the digestion of starch, the body feels fuller for longer," she said.
The research, undertaken in collaboration with the John Innes Centre, will see the team collaborate with crop breeders, seed companies, growers and, ultimately, the industry to deliver foods that benefit consumers.
"It's not just a case of developing wheat with more resistant starch – we need to know if these new varieties carry any yield penalty or affect other qualities of the flour," added Hazard.
"We need to see whether processing and baking affect the levels of resistant starch, as it's the levels in the final loaf that matter."