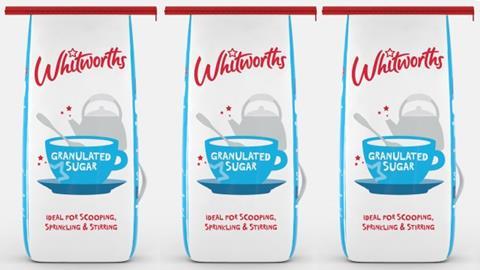 Whitworths Sugar has revamped its 5kg sugar pack to meet soaring demand during the Covid-19 outbreak.
The new pack, which has recently rolled out to 51 Iceland Food Warehouse stores, features a new side handle and is being targeted at small businesses and consumers. It is retailing at £2.85 a bag.
The launch follows a change in sugar buying habits, explained Whitworths Sugar distributor Tereos UK & Ireland, which said demand had been "unprecedented" during the coronavirus crisis.
Sugar buying had risen because shoppers wanted to ensure their cupboards were well stocked and as a result of the surge of interest in activities such as baking and cooking, added the business.
Demand for larger packs boosted sales of 5kg formats by 231% in March 2020, according to Tereos.
The roll-out into Iceland marks the beginning of a relaunch campaign that includes social media activity.
"It is an exciting time for our Whitworths Sugar brand as we are preparing to enter new territories with a brand-new offering," added Pauline Ollivier, brand manager at Tereos.
The launch comes as ingredients suppliers adapt product ranges to tap the home baking boom, with launches from firms including Fleming Howden and Macphie.