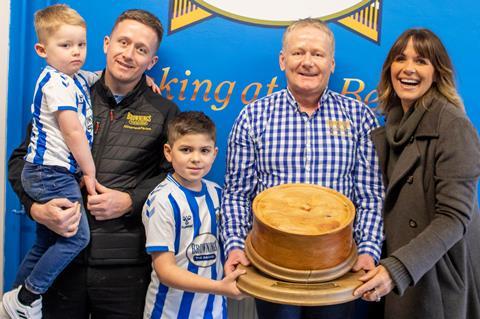 Scottish firm Brownings the Bakers has announced that Fraser Gall has become a fourth-generation director of the business.
In taking on the directorship, Fraser is following in the footsteps of his dad John Gall, whose grandparents set up the business in 1945.
Fraser joined the family business in 2009 when he was 16, with his training beginning in the pie factory that makes and packs the firm's well-known Kilmarnock Pie. He moved over to the bakery side of the business five years later, spending four years there before moving into a sales role where he continues to grow the customer base and bring in new business.
Managing director John said he was proud to announce the appointment of his son as sales director.
"He is a very positive addition to our senior management structure and has the full support of myself, fellow director Matthew Short and the rest of our management team," added John.
"It is really rewarding to see my son continue on in the business and help us to grow and improve what we as a family have been working tirelessly to make successful for over 75 years now."
Fraser thanked his dad and Matthew Short for the opportunity, adding: "I am absolutely delighted to become sales director for a business that means so much to me and my family. I'm sure I can continue to contribute to the success Brownings has had over the years."
Brownings the Bakers suppliers its products to retailers including Aldi, Asda, Marks & Spencer, Morrisons, Sainsburys, Scotmid, Spar, Tesco and Waitrose. The business employs more than 190 staff, operates six retail shops and reports an annual turnover of £11m.
It is the winner of multiple awards including Scottish Baker of the Year 2018/2019, and World Scotch Pie Champions in 2017 and 2022.