As society becomes increasingly concerned about food waste, bakeries are finding new ways to combat over-production – and discovering that the fight against food waste comes with unexpected bonuses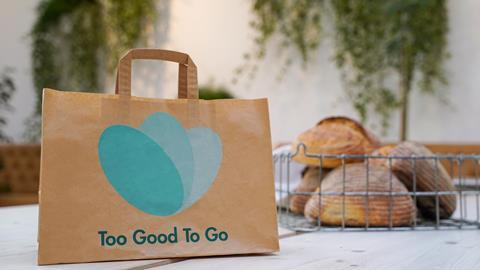 Every day, the UK wastes 20 million slices of bread. That's 900,000 tonnes, or 90 Eiffel Towers' worth. It's a scale that's difficult to fathom – but as anyone in the bakery sector knows, it isn't hard to believe – and bread waste is just the tip of the iceberg.
"If you have an empty counter towards the end of the day, you're unlikely to sell much," says Asher Budwig, managing director of cupcake chain Lola's Cupcakes. "This means we have to stock the counters later in the day to ensure the display looks reasonable. The challenge is, how do you do this without wasting too much of the product?"
Budwig's concerns reflect the feeling across the industry. In an independently run survey, food-waste-fighting app Too Good To Go discovered that 89% of bakery employees are aware of how much food their workplace throws away every day, with over half admitting that the environmental damage associated with this waste concerned them on a personal level.
They're right to be concerned: responsible for 8-10% of greenhouse gases (by comparison, aviation was responsible for 2% in 2019) food waste is one of the most significant problems threatening our planet. Target 12.3 of the Sustainable Development Goals, which by 2030 aims to "halve per capita global food waste at the retail and consumer levels", reflects the urgency of the issue.
"Responsible for 8-10% of greenhouse gases, food waste is one of the most signficant problems threatening our planet"
But while 60% of bakeries surveyed were aware that they should minimise food waste to help the environment, the reality isn't quite that simple.
"As a business, it's important for us not to have empty shelves," says Curtis Williams, sales director of North London bakery chain Wenzel's. "We need enough variety of product so that when customers come into a Wenzel's store, they have choice and availability. It's a fine balance."
To help tread that balance, Wenzel's and Lola's Cupcakes both use Too Good To Go: the app that lets businesses sell 'Magic Bags' of surplus food to local customers. These businesses are among 2,000 UK bakeries using the app to combat food waste, and have contributed to 740,000kg of food being saved from bakeries through the app since 2016.
The flexibility of the Too Good To Go model – whereby customers buy Magic Bags directly through the app, then pick them up at a time set by the store – allows businesses to put their food in the hands of happy customers, all while earning back revenue on items that would have been wasted. Food sold through the app is typically priced at a third of its original value, so it's a win-win for both customers and businesses.
However, reduced food waste and incremental revenue aren't the only benefits to these businesses. With more than 4 million app users UK-wide, increased visibility among locals is a significant benefit to signing up: research has shown that 76% of customers who discover a new business through Too Good To Go will return as full-paying customers.
"Customers come in for a slice of cake on the app, and then come back for their birthdays to order specific cakes as regular customers," says Fulop Gabor, managing director of London bakery Jack & Beyond.
For Gabor, it's also about making sure hard work is enjoyed, not wasted: "We know how much time and care the kitchen puts into our cakes, and for it to go to waste is too sad to comprehend."
Think Too Good To Go could benefit your business? Sign up between 5 April 2021 and 18 April 2021, and be in with a chance of winning a window makeover, valued at £1,000. T&Cs apply, visit toogoodtogo.co.uk to find out more