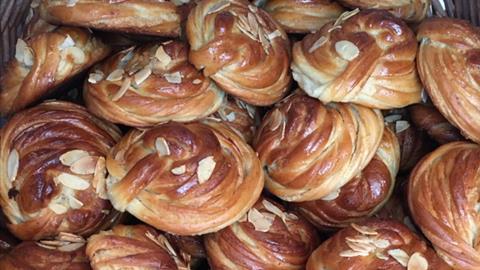 North Tyneside-based Fresh Artisan Bread Co (FAB) has switched its focus from wholesale to retail because of the coronavirus outbreak.
Like many bakery businesses, FAB experienced a drop in wholesale orders after the Covid-19 lockdown was announced.
This prompted baker and owner Shynara Bakisheva to open a pop-up retail shop in Fenham that proved an instant hit with local shoppers. The bakery serves sourdough bread, baguettes and rye bread, although cinnamon buns are its most popular product.
The site has been operating on a pre-order basis, with customers placing orders online. Social distancing measures were put in place for collection, with only two customers in the shop at any one time, and a two-metre distance in the queue.
The bakery has now started moving away from pre-orders as it increases its opening hours to four days a week.
Bakisheva, who was born in Kazakhstan and moved to Newcastle 15 years ago, said she hoped FAB Bakery Fenham would become a "community hub for all".
"The response has been overwhelming. People are so excited to have a bakery in Fenham. A customer said to us last week that the bakery has 'been lockdown for us – it's kept us going', which is wonderful to hear," said Bakisheva.
"The community we have created is a positive which has come out of lockdown, and we really hope to maintain it once restrictions are lifted," she added.
Bakisheva has previously worked at Fenwick's of Newcastle and Vallum Farm in Northumberland, and established FAB in 2017 in Wallsend, North Tyneside.