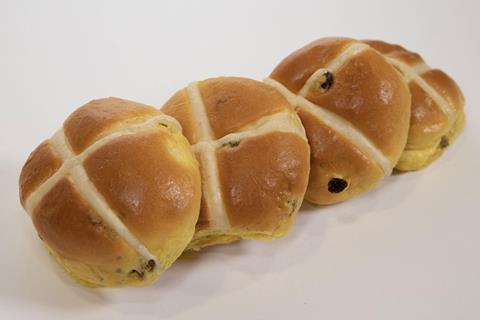 Birds Bakery sold 182,000 Easter-themed bakery items in the run up to the holiday.
As many as 122,000 hot cross buns were sold during March and April, with 40,000 selling over the weekend, the East Midlands-based business said.
Altogether 36,000 Easter cupcakes,14,000 gingerbread rabbits and 10,000 chocolate lollies were distributed from the bakery's 62 shops.
Demand for its home delivery service also spiked with Thursday and Friday slots selling out and Saturday orders doubling, it said.
Mike Holling, sales and marketing director at Birds Bakery, said the resurrection of the rule of six meant people were in search of treats and snacks for their first outdoor family buffet of the year.
"Despite the challenges of lockdown and restrictions still in place for people looking to meet up, our home delivery service performed above our expectations," he added.
"We extended our product lines this year and with the lovely bank holiday weather, more people were able to celebrate and share a hot cross bun in the garden."
On the back of the success of the bakery's home delivery packs, Birds has now introduced a "make your own" sausage cob, which comes complete with sausages, stuffing, apple sauce and traditional bread rolls.
"We expect to see high a demand for our new packs as we approach the warmer months," Holling added.
Last month the bakery revealed it had raised £53,000 for a selection of charities in 2020 including £17,900 for WellChild, a national charity for sick children, £14,900 for SSAFA, an armed forces charity and £10,000 for The Children's Trust.