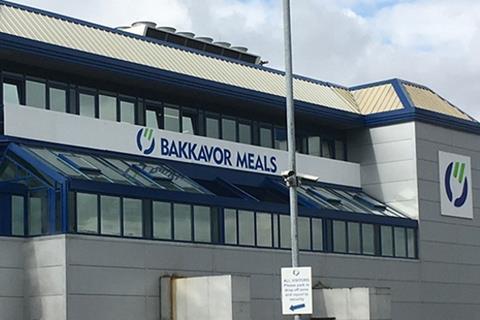 Bakkavor has posted like-for-like revenue ahead of pre-pandemic levels in its full-year results for 2021.
In the 52-week period up to 25 December 2021, sales for the sandwich, pizza and dessert manufacturer totalled £1,886m, representing a 1.2% rise on 2019 and 6.2% higher than 2020's figure. Group reported revenue, meanwhile, was up 4.4% year-on-year to £1,872m.
Pre-tax profit for the group in 2021 stood at £81.4m, up 86% on 2019's £43.8m and 84% higher than 2020's £44.2m.
Bakkavor's UK figures for 2021 also showed an increase on the previous year, albeit slightly less dramatic. Like-for-like revenue was up 2.9% to £1,592.4m while adjusted operating profit stood at £97.8m, representing a year-on-year rise of 7.8%.
The company noted these figures were achieved "despite industry-wide challenges" including supply chain disruption and labour shortages which "[intensified] through the period with volumes constrained as a result".
"This performance represented a positive recovery in volumes as lockdown restrictions eased and demand for our fresh prepared products has remained strong since, with like-for-like revenue down only 2.3% compared to 2019," the company added.
Bakkavor said UK profitability was delivered through "a combination of sales growth, an acute focus on driving further efficiency and supply chain management, and a tight control of costs". However, it added that it is increasing pricing for 2022 following discussions with customers. This, said the company, would help offset inflation in costs that sit outside its pricing models.
"Looking forward, with inflation pressures expected to persist and in certain instances heighten in the near term, we expect to continue the dialogue with our customers around pricing through 2022," Bakkavor said.
The company reported that demand for pizza and bread remained robust, with "significant growth compared to 2019 and a positive year-on-year performance versus 2020". This was driven by good growth in flatbreads and premium pizza ranges, as the increase in demand during the pandemic held up as restrictions have eased.
Performance in Bakkavor's desserts business was also strong, the company said. This followed its decision in the summer "to deliver a more focused all-year-round product range and protect the delivery of seasonal products for the important Christmas period".
"The launch of The Delicious Dessert Company brand is delivering what we set out to do: bringing new, younger consumers to the category," Bakkavor added. "This range has been rolled out to 900 stores across two strategic customers in the second half of the year and we are looking to expand the product range further."
Agust Gudmundsson, Bakkavor CEO, said the company had achieved "meaningful financial and strategic progress against unprecedented industry challenges".
"We have continued to leverage our scale, category leadership, and strict focus on efficiency and cost control to emerge in a position of strength," he added. "Our outperformance, and the support we have given to our customers, suppliers and communities, would not have been possible without the exceptional efforts of all of our colleagues, for which I am incredibly proud."