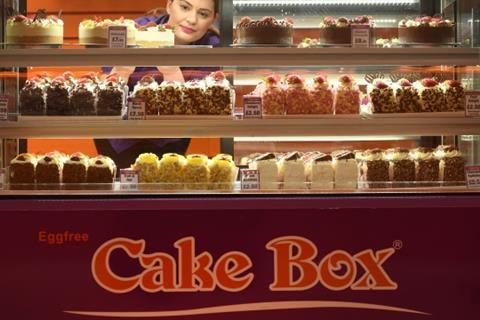 Celebration cake specialist Cake Box expects annual revenues to rise by 50% year-on-year, according to a full-year trading update.
The retail chain said business had been strong across its store estate and online delivery channels for the 12 months up to 31 March 2022 and has made its prediction based on adjusted profit before tax in line with market expectations.
Online delivery and click & collect options have continued to expand Cake Box's customer base, the company said, and franchisee online sales increased around 41% during the year and 27% on a 10-month basis.
Cake Box opened 11 new franchise stores (excluding kiosk openings) in the second half of the period, bringing the total number of stores opened in the full year to 31, compared with 24 in the previous year.
The company reported a continued high level of interest in its differentiated franchise proposition, with 'strong demand' for new stores from existing franchisees and a pipeline of new franchisee applicants resulting in 53 holding deposits being held at the end of the annual period.
The trial of Cake Box kiosks with Asda has continued to expand, with 10 new kiosks opened during the year, taking the total number of Asda kiosks to 15 in addition to 20 shopping centre kiosks.
The company reported a 'significant increase' to its net cash position, which stood at £5.2m at the end of the period, compared with £3.6m for the previous year.
"We have delivered another record performance for the year, demonstrating the continuing appeal of our customer and franchisee proposition," said Sukh Chamdal, Cake Box co-founder and CEO.
"Our strategy to reach customers across the UK is starting to deliver. This is thanks to the dedication, determination and commitment of the exceptional entrepreneurs in our Cake Box family, which continues to grow, providing opportunities for entrepreneurs, creating jobs and providing delicious, fresh cream cakes up and down the country," Chamdal added.
DOWNLOAD THE BAKERY MARKET REPORT 2022
Sukh Chamdal discusses the challenges and opportunities facing the sector in a video interview accompanying the release of British Baker's Bakery Market Report.
The core of the report is the 'BB75' listing, which contains details of the country's 75 largest bakery-focused operators – including Cake Box – ranked by the number of stores they operate.
Information in the report includes:
· Number of sites operated (as of 1 January 2022)
· Year-on-year growth/decline in sites
· Number of employees
· Food and drink split
· Analysis of key activity in 2021
· Plans for 2022