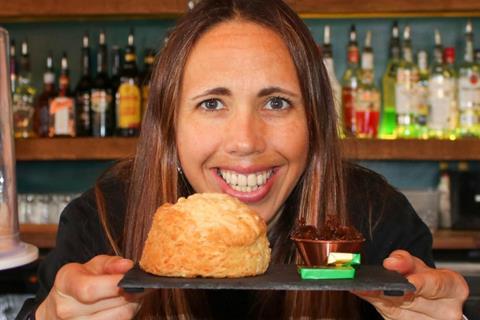 A Cambridgeshire artisan bakery is set to extend and open a bakery school after smashing its crowdfunding targets.
Elsie May's Electric Lounge Café & Bar, located in St Neot's Market Square, raised £17,000 from 300-plus backers on Kickstarter – exceeding its original target of £15,000.
It will use the money to transform its annexe outbuilding into an artisan micro bakery and baking school. The funds will help to buy essential equipment and install the correct electrics and plumbing, such as mixers, sinks, ovens and extraction units, and pay for significant contracting work to make the annexe fit for purpose.
The work to build the bakery, which is already underway, is expected to be completed in the next month with a launch event due to be held upon completion for the first 50 backers of the campaign.
Elsie May's already offers a range of baked goods including sandwich loaves, focaccia, teacakes, cinnamon & cardamom rolls as well as a selection of cakes, savoury bakes and afternoon tea. During the day it operates as a café for eat in and takeaway, switching to a bar on Friday and Saturday nights serving up cocktails and other alcoholic drinks.
"We can't believe how quickly the generosity of the local community has helped us not just reach but surpass our target goal. We've always wanted to open a bakery and a bakery school for the local community and the kindness shown from members of the public will help us do just that," said Elsie May's Electric Lounge owner Naomi Rose.
"Every individual that pledged, regardless of how big or small, will be part of our story and help shape the Elsie May's Bakery for years to come. Our local community is so important to us and we want to use these funds to create a bakery that people can be proud of, right on their doorstep."
The campaign was supported by Instagram influencer Sourdough Sophia to her 112,000 followers as well The Real Bread Campaign and The National Caterers Association.