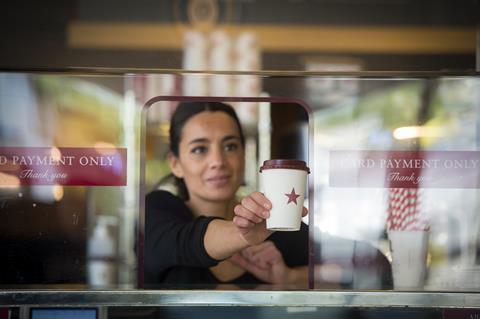 Pret A Manger has confirmed it will pass on the savings from the temporary VAT reduction to customers.
Chancellor Rishi Sunak announced last week that VAT on eat-in or hot takeaway food from restaurants, cafés and pubs would be temporarily cut from 20% to 5% as part of government plans to revive the hospitality industry.
Pret's customers will receive price reductions on hot drinks from today (15 July) and price reductions on hot food and eat-in items from Friday 17 July.
Some examples of price changes are:
Eat-in Tuna Mayo Baguette – reduced from £3.60 to £3.15
Eat-in Chef's Italian Chicken Salad – reduced from £5.99 to £5.25
Takeaway Ham and Cheese Croissant – reduced from £2.40 to £2.10
Takeaway Latte – reduced from £2.75 to £2.40
The reduction does not apply to cold takeaway food, such as sandwiches and salads, as these items don't have VAT applied to them.
"From today, you'll be able to enjoy your takeaway coffee for a little bit less and, from Friday this week, you'll be able to enjoy lower prices while eating in at your local Pret," said a spokesperson.
Pret is also taking part in the Eat Out to Help Out scheme in August. Another move by the government to boost the hospitality industry, the scheme sees a 50% discount applied to sit-down meals at any participating business from Monday to Wednesday throughout the month, with a maximum discount of £10 per head.
The business started reopening its shops in April, with the first 10 stores staffed by volunteers. A larger wave followed, with more than 300 sites open as of the start of June and a number of new health and safety measures in place to protect its employees and customers.
However, the company hasn't escaped the pandemic unscathed. Earlier this month, it announced a restructure due to the impact of coronavirus on cashflow and costs, which will result in the planned closure of 30 shops in the second half of the year.