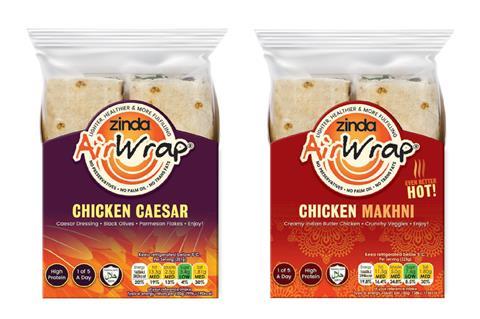 Food-to-go brand Zinda Foods is set for 'rapid expansion' after receiving a six-figure funding boost.
The funding has come from a pre-seed round led by HVB 88 Angels, a US-based angel fund, along with a private investor also based in the US. According to Zinda, the second tranche of the pre-seed round is set to bring in another six-figure capital injection from a Singapore-based private equity fund in May.
The business, which retails filled wraps through Tesco, Budgens and Londis stores nationwide, said the investment will used to support new retailer listings with other major multiples and the launch of its AirWrap flatbread. The company also confirmed a 'large spend' on building its marketing and sales team as well as NPD and a refresh of brand and marketing activity.
"This is a massive milestone for Zinda at a time when Covid brought us down to our knees," said Anishya Kumar, founder of the business. "We were resilient through the pandemic and now since the worst is over, the support of HVB 88 will help us pivot and grow exponentially."
Zinda added that the involvement of HVB 88 as strategic equity investor would open further opportunities though its 'vast network of diverse expertise' across geographies and industry verticals.
"Our investment in Zinda Foods five-ingredient AirWrap, UK's first all-natural commercially produced wheat flour wrap, is the best option in the market and we are glad to be part of this journey and witness their growth plans to make this available in all stores across the UK and beyond," said Siddharth Jain and Porus Doctor, co-founders from HVB 88 Angels.