Brits want it all when it comes to cupcakes – from comforting, classic flavours to adventurous and exquisitely decorated bakes. We've asked industry experts for their take on the tastes, trends and techniques dominating the cupcake market…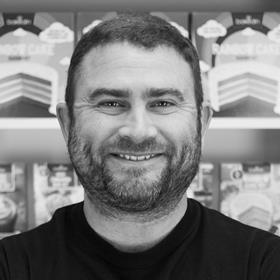 Joseph Munns, CEO and founder, Bakedin
The unicorn topping is a popular trend that isn't showing any sign of going away. There is also a lot of interest in afternoon teas and garden parties, with traditional bunting and lattice toppings.
Some people are becoming more adventurous, with beetroot brownie, courgette and carrot cupcakes. Meanwhile, the boozy baking trend allows bakers to use alcohol instead of drizzles such as lemon, infused in buttercream or complemented by fruit garnishes reminiscent of cocktails, such as lime wedges with gin & tonic cupcakes or strawberries with strawberry daiquiri cupcakes.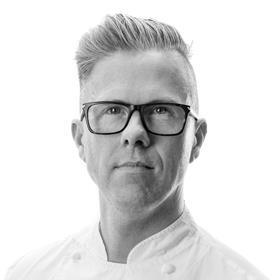 Simon Ratcliffe, Applications executive, JF Renshaw
Bakers can colour their buttercream by adding two hues to create a swirl, or using sugarpaste to create cut-out shapes or plaques. Edible glitters and shimmers are also popular, allowing the cupcake to sparkle and shine in the light.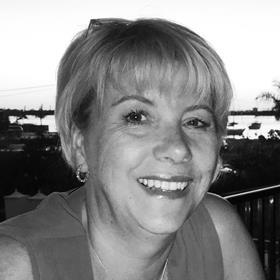 Karen Dear, Director of operations, Craft Bakers Association (CBA)
Bakers can use different icing techniques on cupcakes by piping a classic swirl or flowers. They can also get creative with fillings by injecting cupcakes with multiple colours to create a rainbow effect, or encasing an entire chocolate or sweet inside.
Children love cupcakes featuring cartoon characters. CBA member Warings Bakery in Reading tops vanilla cupcakes with images of characters. It also tops plain iced cupcakes with sweets such as sour cherries, jelly beans and Jazzies.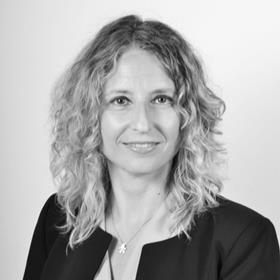 Cristiana Ballarini, Activation director west, south, international, CSM Bakery Solutions
The use of the popular colours white, pink, yellow and red, including metallic, is set to continue. More traditional gold, silver and copper are also coming to the fore. The use of traditional sprinkles will increase, and textured buttercream finishes will be 'roughed up'.
The coronavirus pandemic has seen customers returning to more traditional flavours and cakes as they look for reassurance and quality.
Hot on the heels of the hybrid cupcake with lemon meringue and carrot cake, classics such as key lime pie, Black Forest gateau and red velvet cake are proving to be popular.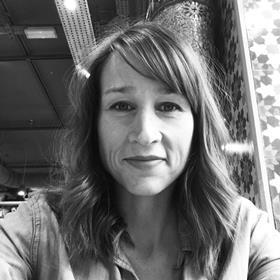 Zoe Upcraft, Licensing manager, Culpitt
From shells, stars and scallops to rosettes, ruffles and ribbons, we're increasingly seeing an eclectic mix of piping styles coming together on a single cupcake, creating a beautiful combination of patterns.
Multiple complementary colour combinations are possible, as cupcakes adopt a more flamboyant style. Gels can also achieve tonal colours and mix easily with icings. Handmade royal icing pipings and printed decorations require minimal skill, but achieve maximum impact on the counter.
With the rise of bakery gifting, cupcakes featuring princesses, pirates, animals, pop-culture icons and leading licensed characters are very appealing.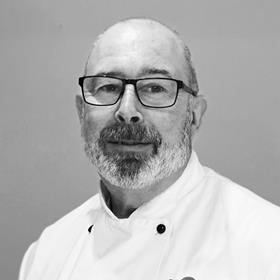 Robin Loud, Application chef, Dawn Foods
Try substituting water in the batter with Earl Grey Tea, then finish with a swirl of lemon frosting.
A variety of sweet bakery products include: botanical
and floral flavours such as basil, lavender, bergamot, clementine, rose and hibiscus. For example, try out clementine cupcakes with a basil ganache.
One of the biggest trends in cake decorating is the geode cake. Using crystallised sugar, the cake looks as if colourful rocks are carved into it. This technique can also be used to top cupcakes. The edible geodes are placed in a bed of frosting and coloured in red, green or blue.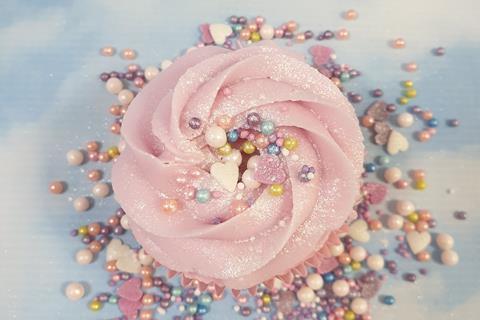 Recipe: Pink Gin Cupcake
The Pink Gin Cupcake follows the pink gin trend. Its double rosette piping technique gives the cupcake height and ensures plenty of frosting with each bite. It is finished with a dusting of Twinkle Dust shimmer and is reminiscent of a glistening tall glass of pink gin & tonic.
Time: 2 hours
Source: Renshaw
Ingredients
Butter, 175g
Self-raising flour, 175g
Caster sugar, 175g
Baking powder, ½ tsp
Large eggs, 3
Vanilla extract, ½ tsp
To decorate: (see opposite)
Pink Gin frosting
Selection of sprinkles
Twinkle Dust Snow White shimmer
Instructions
Cupcake:
Beat the butter until soft, add the sugar and continue to beat until pale, light and fluffy.
Sift the flour and baking powder together into a separate bowl.
Add one egg at a time to the sugar and butter mixture with a large tablespoon of flour, mixing until just incorporated after each addition.
Mix in the remainder of the flour and, finally, the vanilla extract.
Distribute evenly between the cupcake cases.
Bake in a pre-heated oven at 165°C for 20-25 minutes or until golden brown.
Take out of the oven and leave to cool completely for an hour.
Decoration: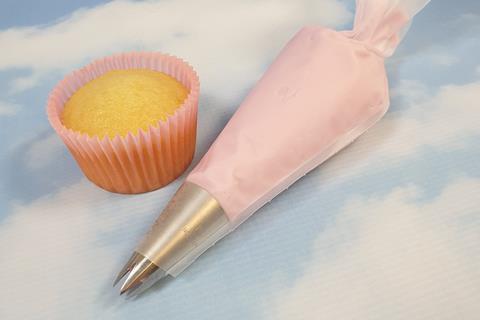 1. Prepare the piping bag by cutting off the tip and inserting the nozzle, then spoon the frosting into it.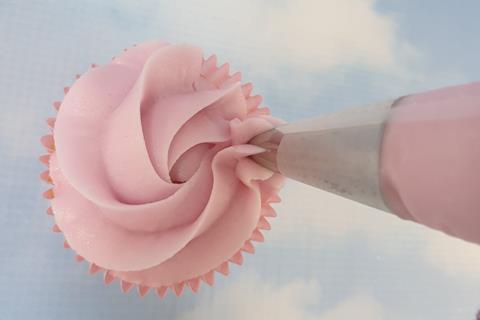 2. Hold the piping bag at a 90-degree angle above the cupcake and pipe a swirl anti-clockwise to create a rosette.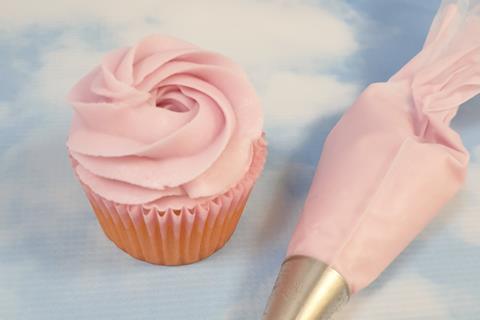 3. Repeat on top of the first rosette for a double swirl, leaving a small gap in the middle.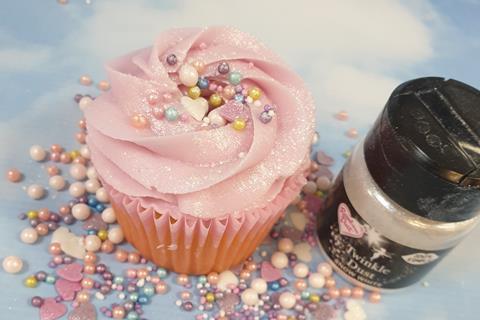 4. Fill the gap with sprinkles, focusing only in the centre of the cupcake. Apply the shimmer generously using a dry brush.