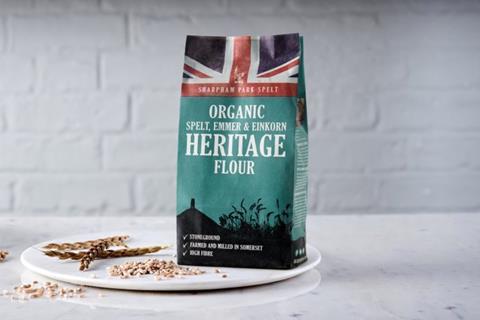 Somerset-based Sharpham Park has launched an organic flour made with three ancient grains.
The Organic Heritage Flour contains 70% organic white spelt flour, 15% organic emmer and 15% organic einkorn.
At an rsp of £3.95 for a 1kg bag, it is the first of its kind in the UK to combine three ancient grains, said the firm. The 100% organic flour is suitable for making breads, cakes, biscuits, cookies, pastry and pasta, it added.
Spelt offers fibre, protein, iron and vitamins; emmer provides protein, fibre, magnesium, zinc and some B vitamins; and einkorn is high in protein, fibre, vitamins A and B.
"We developed this as an introduction to spelt, emmer and einkorn grains as we feel it is a natural step for keen bakers from our Baker's Blend flour (a mix of wholegrain and white flours).
"We have created the blend to make the transition to heritage grains as easy as possible for the home baker looking to experiment and expand their repertoire," said Roger Saul, founder of Sharpham Park and the British fashion label Mulberry.
The grains are grown and stone-milled at the spelt farm to create a flour with the mildly sweet flavour of spelt and emmer, as well as the earthy tones of einkorn, it added.
The Organic Heritage Flour will be available in Waitrose, Planet Organic, via the Sharpham Park website and its sister company Kilver Court Designer Village in Somerset.
Sharpham Park rolled out non-organic retail spelt flour due to rising demand during the coronavirus crisis.