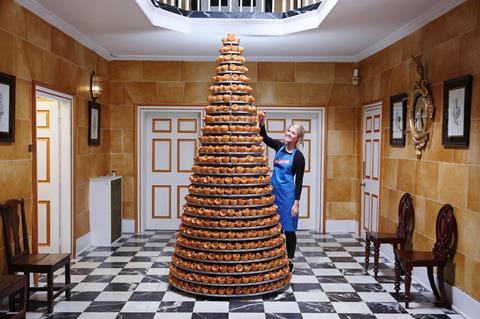 Aunt Bessie's has unveiled a 25-tier Yorkshire pudding tower to mark its 25th anniversary.
The tower is made from 965 of its latest NPD – Glorious Golden Yorkshires – which are filled with the likes of roast beef and potatoes, pigs in blankets and gravy.
At 8ft 11 inches, the 25-tier creation took over two hours to construct. It is the same height as the world's tallest man, said the firm.
The fillings include: mini rare steak, roasted carrot, broccoli florettes, roast potatoes and gravy; mini sausages, gravy, roasted red onion, carrot, swede mash and thyme; cinnamon apple and cream; and roasted plums & berries, toasted hazelnuts, cinnamon whipped cream and a little thyme sprig.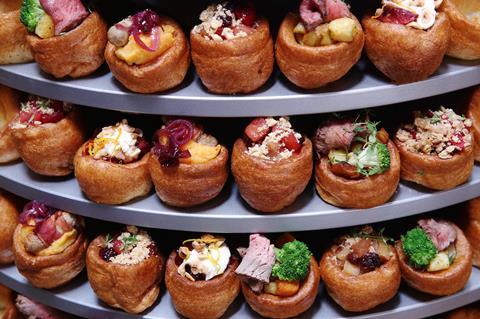 Aunt Bessie's Glorious Golden Yorkshire Puddings are 25% bigger than the brand's original variants and are ready to cook straight from the freezer.
They are available now from Tesco, Morrisons, Sainsbury's, Asda, Waitrose and Ocado, with an rsp of £1.55 for a pack of 10 or £2.60 for a pack of 18.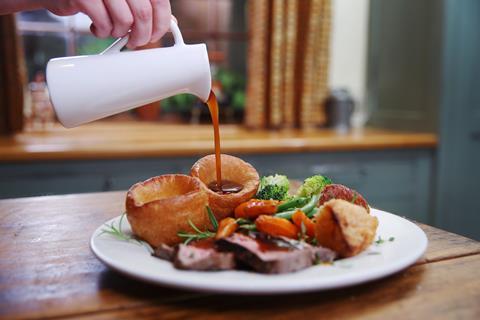 "Having worked at the factory for three decades, I've tasted thousands of Yorkshire puddings and seen lots of changes – but I'm proud to say that this is our best recipe yet," said David Barr, Yorkshire pudding guru at Aunt Bessie's.
"We only use the finest quality ingredients to ensure the best-tasting puds end up on the nation's dinner plates. What better way to mark this magnificent milestone than with a gigantic Yorkshire Pudding cake?"