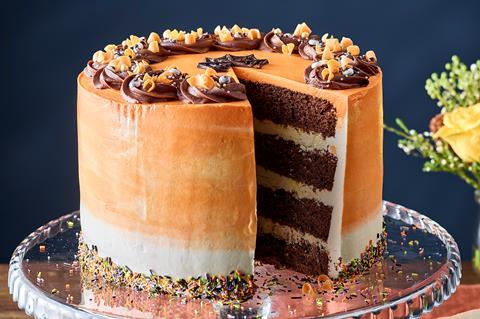 The bakery market has stirred the cauldron this autumn to serve up some eerie-sistable treats for Halloween 2022.
Here are some of the spook-tacular offerings from the likes of Asda, Krispy Kreme, Crosstown and Patisserie Valerie: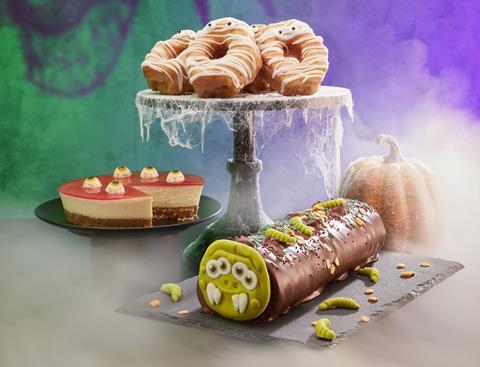 Asda
Asda has revealed a line-up of Halloween bakery treats featuring new characters and spooky-themed novelties this autumn.
The Miles the Millipede cake (£6, 750g), designed as a Halloween centrepiece, features chocolate sponge, chocolate frosting and milk chocolate coating, topped with sugar decorations.
Another new edition to the supermarket's bakery selection is the Mummy Yum Nuts Donut (£1.35 per two-pack), featuring ghostly white icing sugar and eye decorations.
There's also a Halloween-themed Eyeball Cheesecake (£5). Featuring digestive biscuit base and vanilla cream cheese filling, it's hand-decorated with a raspberry glaze and topped with edible sugary eyeball decorations.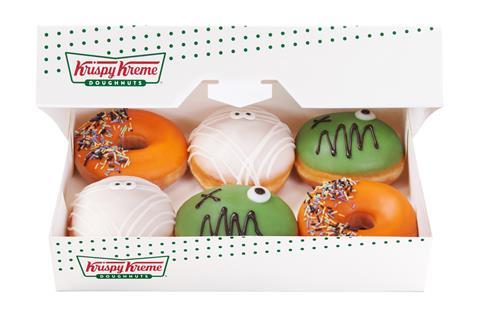 Krispy Kreme
Krispy Kreme has unveiled its Halloween range to help doughnut fans get in the spirit this October.
Featuring three new doughnuts, the limited-time only collection includes:
The Undead Ned doughnut (£2.45), filled with gooey chocolate, dipped in green icing and topped with dark and white chocolate icing
The Wrapped-Up Rita doughnut (£2.45), filled with Lotus Biscoff Kreme, hand-dipped and piped with white bandage lines and topped with sugar-plaque eyes
The Spooky Sprinkles (£2.05), an Original Glazed doughnut dipped in orange icing, and topped with Halloween sprinkles.
The doughnuts are available to pre-order from the Krispy Kreme website from 7 October 2022 and will be on sale in all Krispy Kreme retail shops, selected Tesco, Sainsbury's, Asda and Morrisons shops.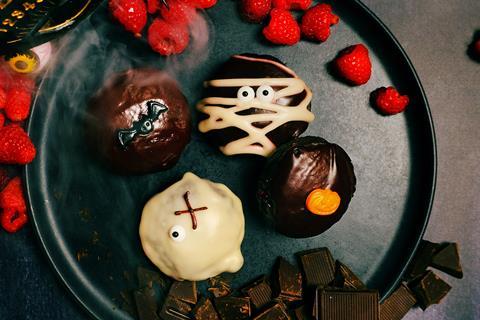 Crosstown
Another doughnut chain looking to capitalise on spooky season, Crosstown is releasing its Halloween dough bites.
The vegan treats are crafted with Crosstown's black cocoa dough, filled with homemade raspberry jam and topped with a dark berry glaze. Each dough bite is hand-finished with ghoulish decorations.
Halloween Dough Bite Boxes are available with three or 15 bites. Pre-orders are available via the Crosstown website from 3 October.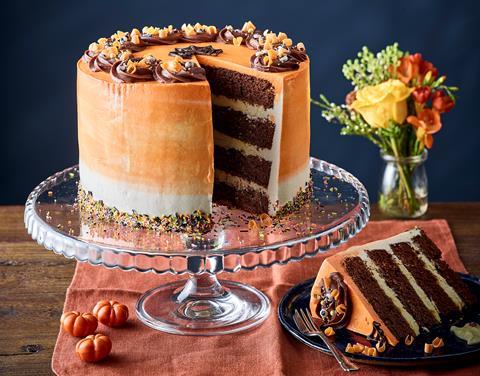 Patisserie Valerie
Cake specialist Patisserie Valerie has launched three limited-edition creations this Halloween.
The trio comprises:
Halloween Edition Orange Ombre (£49.95 serving 18-20). Topped with a chocolate spiderweb, chocolate buttercream rosettes, chocolate orange curls and sugar sprinkles, the cake has chocolate cream sponge layers filled with zesty orange cream and an orange fruit filling, encased in a Swiss meringue buttercream.
Toffee Apple Cake (£37.95 serving 12-14 / £49.95 serving 18-20). Available in two sizes, the cake comes decorated with a glossy caramel top, caramel pieces and mini apples dipped in chocolate. Inside, the sponge features layers of rings of toffee St Honere cream and apple filling alongside layers of toffee custard, caramel glossy, and mini caramel pieces.
Pumpkin Spiced Latte Cake (£37.95 serving 12-14 / £49.95 serving 18-20). Available in two sizes, this creation contains vanilla sponge alongside layers of pumpkin, coffee and cinnamon cream cheese, completed with caramel flicks, Patisserie Valerie plaques and a fiery design surrounding the base.
The Toffee Apple Cake and Pumpkin Spice Latte Cake are available in store and online, while the Halloween Edition Orange Ombre is available for presale online now.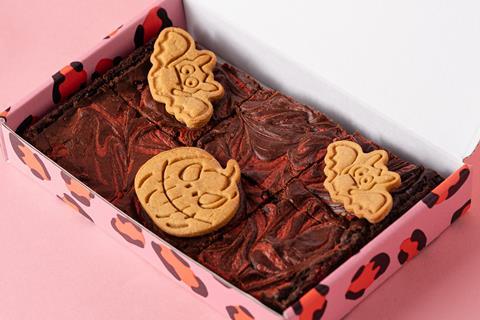 Cake or Death
Aptly named for Halloween, Exeter-based Cake or Death is launching limited-edition brownies inspired by the on-trend autumnal flavour of pumpkin spice.
The vegan treats feature Cake or Death's signature brownie spiced with ginger, cinnamon and mixed spice, and rippled with red Biscoff spread. They are then topped with house-made gingerbread pumpkins and bats.
The brownies are available from 14 October until 28th October, priced at £18.50 for a box of six.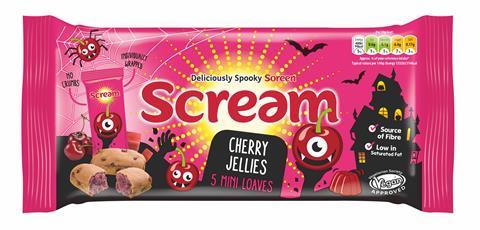 Soreen
Soreen is back this year with a limited-edition Halloween Scream multipack featuring its new flavoured Cherry Jellies Mini Loaves.
The Cherry-fying Jellies are loaded with chopped cherry flavoured jellies, and there's also a surprise jelly centre.
Soreen's Toffee Apple Scream flavour is also available, featuring apple and toffee pieces and designed as a healthier Halloween snack.
Both the flavours come in the form of Lunchbox Loaves with Halloween-themed packaging, individually wrapped and under 101 calories per bar.
The products will be listed in all major retailers, with an rsp of £1.