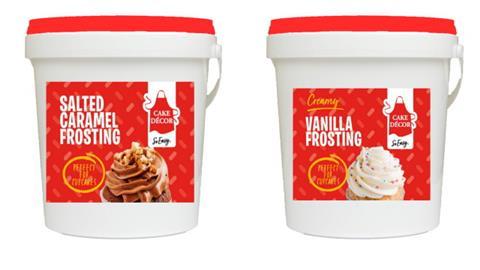 Glasgow-based Cake Décor has unveiled cake frostings targeted at professional bakers.
The Professional Frostings range is made up of Salted Caramel, Rich Chocolate and Creamy Vanilla.
Each 1.5kg pack is ready-to-use for piping and spreading on cakes and cupcakes, said the company.
The frostings are supplied in re-sealable tubs containing enough product to cover and fill four 8-inch cakes or frost up to 45 cupcakes.
Supply chains in the cake industry are unpredictable due to the Covid-19 pandemic, said Cake Décor, adding that it hopes to meet the demands of customers during lockdown at its UK BRC AA+ site.
Professional Frostings are available to order now from online distributors including Sprinkles & Co from an rsp of £7.25 per tub.
Cake Décor supplies edible cake decorations to major retailers and food manufacturers including plant bakeries.