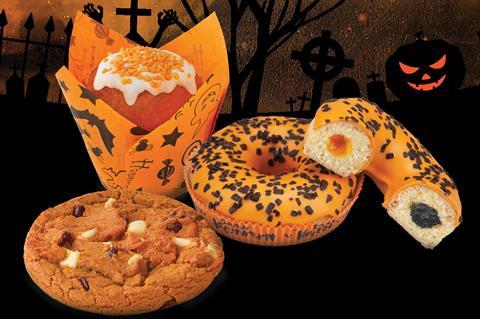 Dawn Foods has launched four new Halloween products as well as a price promotion on 13 best-selling items.
Its new range comprises the Halloween Duo-filled Blackcurrant and Orange Donut; Halloween Orange, White Chocolate and Cranberry American-style Cookie; Halloween Blood Orange and Chocolate Muffin; and Dawn Spicy Pumpkin Filling.
Halloween Duo-filled Blackcurrant and Orange Donut comprises double blackcurrant and orange sauce filling and an orange and chocolate sprinkle topping in a Halloween themed cup.
Halloween Orange, White Chocolate and Cranberry American-style Cookie has a blood orange and vanilla base, as well as white chocolate and cranberry inclusions. Wrapped in a clear film, the cookie comes with new Halloween cookie bags.
Halloween Blood Orange and Chocolate Muffin contains a blood orange base, chocolate chunk inclusions and a Halloween themed muffin cup.
Dawn Spicy Pumpkin Filling is ready-to-use with real pumpkin puree. The American-style, bake-stable filling is made up of spices, natural flavours and colours, and is suitable for unbaked applications.
"Halloween is the third biggest retail event after Christmas and Easter. Following the uncertainty of this year, we predict bakers will want to go to town with Halloween, but budgets may be tighter than usual and fewer staff available. We've introduced thaw and serve options as well as the toolkits to help bakers make Halloween as easy – and profitable – as possible," said Jacqui Passmore, marketing manager UK and Ireland at Dawn Foods.
Consumers will receive a free Halloween-themed toolkit with any five products purchased from its 12.5 kg Crème Cake Base or Extra Moist Muffin Base in plain or chocolate, or 6kg pails of Dawn Vanilla, Chocolate or Orange Frosting.
Each toolkit contains Dobla branded chocolate bat decorations and point of sale material so bakers can create a range of Halloween-themed sweet bakes and decorate in-store.
In addition, the firm will be offering a Bakers' Dozen promotion with a £5 per 12.5 kg bag discount on 13 best-selling products.
Available through selected wholesalers, it comprises seven Super Versatile Mixes, including the Extra Moist Muffin Base and Crème Cake Base in plain and chocolate, Golden Genoese Cake Base and Dark Devils Genoese Cake Base.
It will also apply to six Totally Tempting toppings, such as Vanilla, Cream Cheese and Chocolate Frostings; and Vanilla, Chocolate and Caramel Glossy Icings.
"The last few months have been tough for bakers, but many have adapted their business model by introducing takeaways and deliveries for example and keeping community spirit up with delicious baked goods. As the bakery industry now enters recovery mode, we wanted to say a 'thank you' to our customers by offering our 13 best-selling products at a discounted price. We hope that the savings will help bakers and caterers get back on their feet as soon as possible," Passmore added.