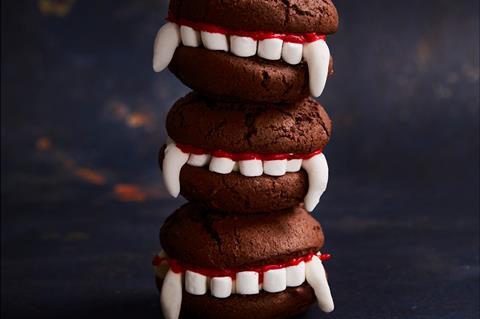 The witching hour is upon us and the nation's bakers are serving up a host of treats for the occasion, from pumpkin puffs to mummified eclairs.
Here are some of the baked goods on offer this spooky season: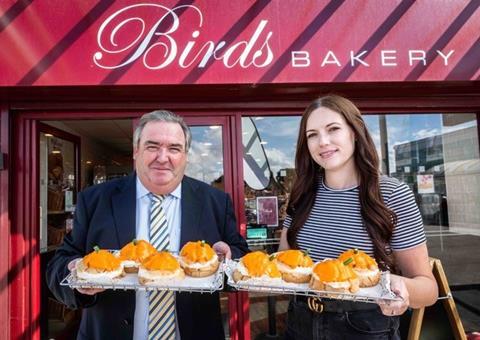 Pumpkin Puff, Birds Bakery
Birds Bakery has unveiled a Pumpkin Cream Puff for Halloween that was the result of the bakery's 'Get Your Bake On' competition. It encouraged cake enthusiasts to share their designs on social media with the winning one to be sold in the bakery's 63 stores across the East Midlands.
Lauren Milner was chosen by a panel of judges after wowing with her Pumpkin Puff design. The treat, which is described as a spooky take on Birds' classic cream puff, is filled with chocolate orange cream, covered with orange icing and finished with green chocolate on top.
"I didn't want to venture too far from what Birds is about – I thought it best to stick to an original, well-loved classic and give it a twist," said Milner. "The cream puff is the perfect shape for a pumpkin and as chocolate orange is my favourite flavour, it was a no brainer."
The Pumpkin Puff will join the Birds Bakery wider Halloween range that includes Gingerbread Mummies, Chocolate Pumpkins and Ghost Chocolate Lollies.
"Our bakers had so much fun creating Lauren's winning design and it's been great to have her in store to see her drawing become a reality. We can't wait to see the reaction of customers when the Pumpkin Puff hits the shelves this week, just in time for Halloween," added Mike Holling, sales and marketing director at Birds Bakery.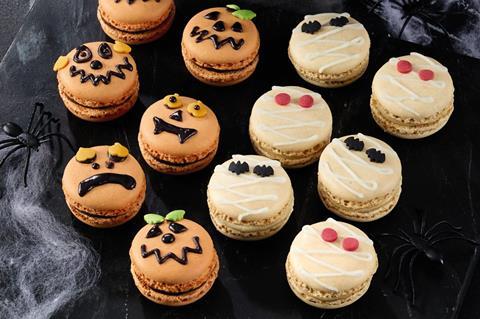 Vanilla Mummy Macaron, Aldi
Discounter Aldi has unveiled a duo of macarons for Halloween 2022 – Chocolate Orange Pumpkin and Vanilla Mummy Macarons.
The chocolate orange variants have a chocolate filling sandwiched between two orange infused macaron shells, decorated to look like Jack O' Lanterns. The Vanilla Mummy macarons have a buttercream filling with spooky eyes and icing bandages.
The almond-based bakes cost £2.99 for a 100g pack.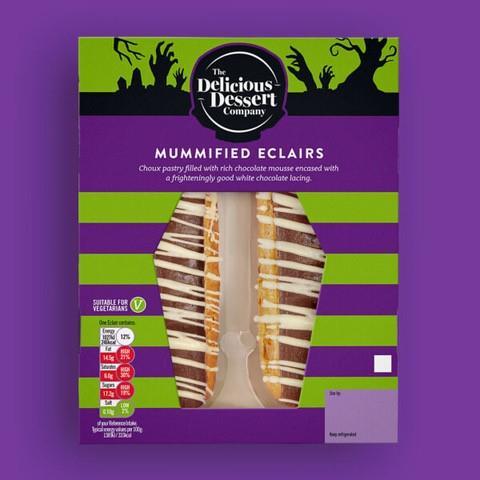 Mummified Eclairs, The Delicious Dessert Company
The Delicious Dessert Company has unveiled two new additions to its range in the form of Halloween Profiteroles and Mummified Eclairs.
The profiteroles are filled with cream and covered in orange fondant and dark chocolate lacing. The eclairs, meanwhile, are filled with a chocolate mousse and finished with chocolate and white chocolate lacing. Both are available in Tesco and Sainsbury's.
The seasonal NPD follows a series of launches by the business this year, including a range of American-style Long Johns doughnuts in June.
"We are excited to bring two limited edition products into stores around the UK. This builds on the other launches we have had this year, which have surpassed expectations," said Claire Smith, head of insight at The Delicious Dessert Company. "As with our other ranges, these limited-edition Halloween cakes give a twist to a popular classic, as we set about re-inventing popular dessert products for a new age."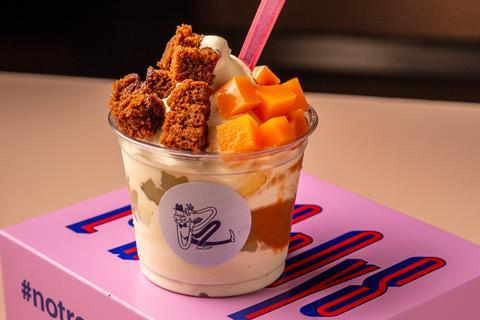 Pumpkin Spice Doughnut, Longboys
Doughnut specialist Longboys has unveiled a Pumpkin Spice Doughnut and Jack O' Lantern Sundae for the spooky season.
The limited-edition doughnut taps into the flavour of the season and is topped with poached pumpkin, pumpkin puree, apple compote, gingerbread and orange confit. Each is priced at £4.20.
The Jack O' Lantern gourmet sundae, meanwhile, sees Jersey milk soft serve topped with pumpkin spice, caramel, apple, poached pumpkin and gingerbread. It costs £6.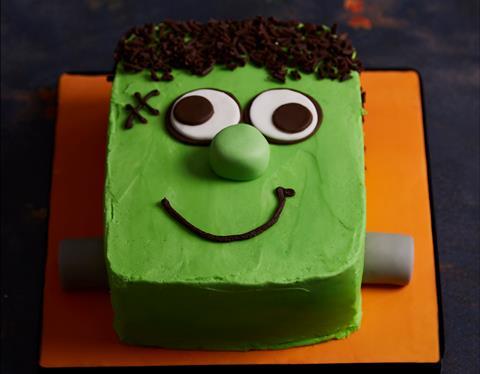 The Frankenstein Cake, The Hummingbird Bakery
A Frankenstein cake and whoopie pies that bite back are among The Hummingbird Bakery's Halloween offering.
The Frankenstein Cake, priced at £34.95, has chocolate curls for hair and a handmade sugar paste face atop two layers of fluffy vanilla sponge covered in green buttercream.
The Chocolate Whoopie Pies are filled with marshmallow cream cheese and marshmallow teeth and fangs, and cost £3.55 per treat.
The Halloween cupcake selection box features a range of scary designs in chocolate, vanilla or red velvet variants decorated with witches legs, skulls with white candy melts. Priced at £3.80 for a single cupcake, £21.95 for a six-cupcake selection box or £25.60 for a 12 mini cupcake selection box.
Rounding off the range is the traditional pumpkin pie with mixed spice and dusted with cinnamon.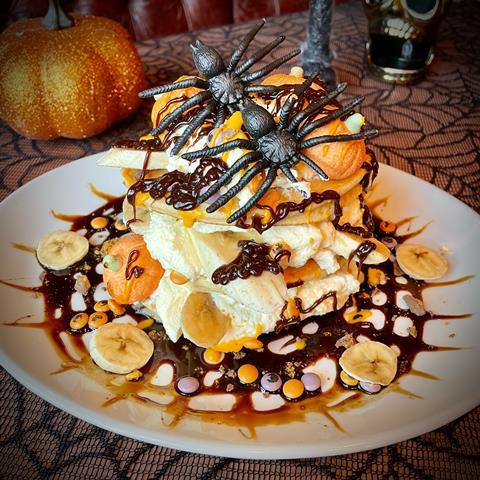 Black Widow Pancake Stack, Polo 24 Hour Bar
East London café Polo 24 Hour Bar has unveiled a Halloween themed bottomless brunch featuring a Black Widow Pancake Stack.
The pancakes come with a 'wicked web' of banana, fresh cream, chocolate sauce and Halloween candy. Also joining the spooky line up is The Broomstick Burger that is served in a charcoal sesame bun.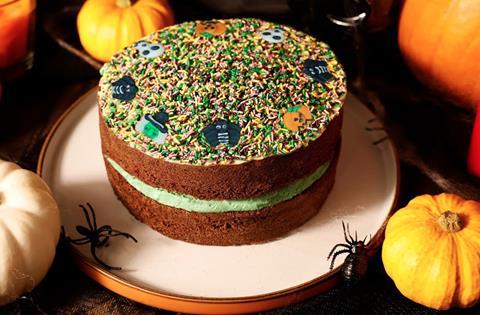 Halloween Cake, Sponge
Online sweet treat specialist Sponge has unveiled a range of cakes and brownies for home delivery this Halloween.
Sponge's Halloween Cake, priced from £16.50, features chocolate cake sandwiched with a green buttercream and topped with orange icing before being covered with Halloween sprinkles and creepy faces. A gluten-free version is available.
Sponge also has a Halloween Brownie Decorating Kit that includes a round undecorated brownie with a selection of Halloween decorations including chocolate icing, bats, ghosts and spiders.