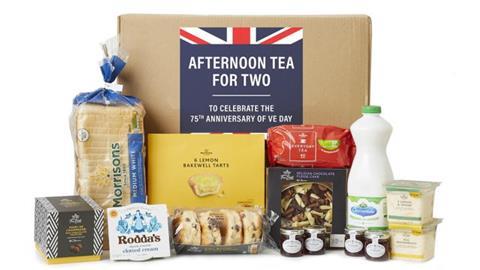 Morrisons has launched afternoon tea boxes for two to celebrate Victory in Europe (VE) Day on 8 May.
Aimed at consumers who are self-isolating, as well as the vulnerable or elderly, the boxes contain scones, cakes and sandwich ingredients for two. They are available to order direct to doorsteps.
Following the news that the VE Day street parties had been cancelled, the afternoon tea boxes were developed to help the nation celebrate the landmark 75th anniversary at home, said the retailer.
"We're playing our part in feeding the nation and that includes being there for customers in times of commemoration and celebration," said Morrisons CEO David Potts.
"These boxes will allow those who would normally be getting together with friends and family to treat themselves to an afternoon tea at home."
It will be delivered, contact-free, ahead of VE Day and in time for the Nation's Toast to the Heroes of WW2 at 3pm on 8 May. At that time, people are encouraged to stand up and raise a glass to toast: "To those who gave so much, we thank you".