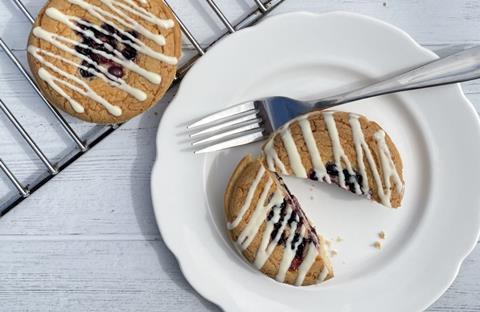 With summer in full swing, manufacturers of sweet baked goods are looking to tempt consumers with new launches aimed at on the go snacking and al fresco refreshment.
From better-for-you doughnuts to tantalising tarts, here's a round-up of the latest offerings from the likes of Burton's, Mondelēz, Ginger Bakers and more: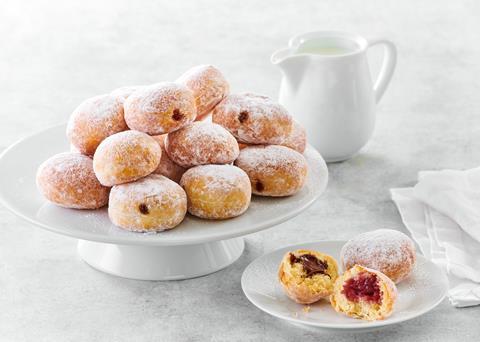 Bites, Donut Worry Be Happy
Donut Worry Be Happy is tapping into the bite-sized dessert trend with a six-strong range of doughnut bites for foodservice operators.
Variants include the Apricotty Bite filled with apricot marmalade, the Caramba Bite with a caramel toffee filling, the chocolate hazelnut filled Crazelnut Bite and the Speculicious Bite which utilises on-trend flavour speculoos. There are also the fruity Very Berry Bite and the White Chocolate Bite.
Coated in a light dusting of icing sugar, each bite contains 100% natural colours and flavours and uses only cocoa and chocolate that is 100% UTZ certified, the brand said, along with real Belgian chocolate and real fruit jam fillings.
"These new products offer so many opportunities for caterers to drive sales and increase margins and can really add value to any dessert or snack/treat offering," said Rebecca Dunning, trade marketing manager for La Lorraine Bakery Group. "They are also the ideal pick me up – whether it be a mid-morning sweet treat or an indulgent on the go snack after work."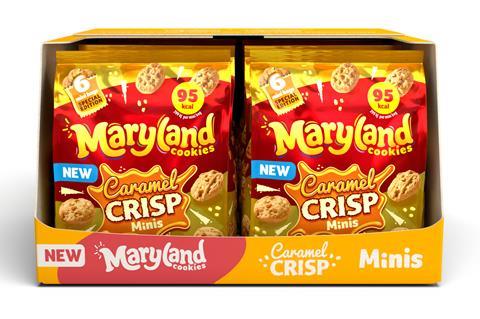 Burton's, Maryland Caramel Crisp Minis
Burton's Biscuits has added a caramel variant to its lunchbox-targeting Maryland Minis range.
The launch of Maryland Caramel Crisp Minis forms part of what the company describes as its 'ongoing commitment to promoting the role of portion-controlled snacks as part of a healthy balanced diet and active lifestyle'.
"The appetite for caramel snacks has seen tremendous growth, with spend on caramel biscuits by Maryland shoppers increasing 26%, highlighting the strong sales potential for Caramel Crisp Minis," said Kate Needham, Burton's Biscuit Co's marketing director.
"At less than 100 calories a bag, we know this tasty addition to our range will appeal to parents in search of a permissible and convenient treat for the lunchbox or as an on-the-go snack," she added.
The new product will be available from July across Tesco stores. Each multipack contains six mini bags with an rsp of £1, in line with the rest of the Maryland Minis range.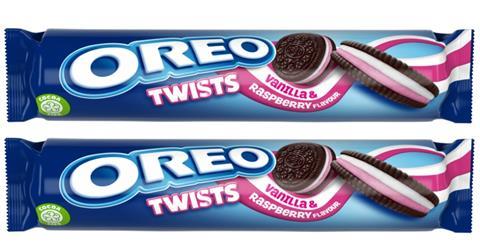 Mondelēz, Oreo Vanilla & Caramel and Vanilla & Raspberry Twists
Snack giant Mondelēz is adding a twist to its Oreo offering with the launch of two new variants.
Double-layered Oreo Vanilla & Caramel and Vanilla & Raspberry Twists form the first major launch under the biscuit brand in three years. The new products, available from July, combine one layer of vanilla crème with another flavoured layer.
"We wanted to create something really fun for Oreo-lovers, adding a twist to the original sandwich cookie filling consumers know and love with double-layered Oreo cookies, tapping into the latest flavour trends," said Katya Savelieva, brand manager for Oreo UK at Mondelēz International.
The biscuits are available in packs of 16 with an rsp of £1.19, and the launch will be supported by social, digital and in-store campaigns.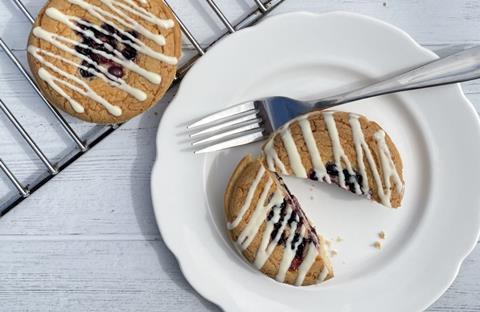 Ginger Bakers, Lemon & Blackcurrant Blondie Tart
Ginger Bakers has launched a Lemon & Blackcurrant Blondie Tart to add to its offering of fruitcakes, traybakes, loaf cakes and seasonal cakes.
Intended to be enjoyed with a brew or a glass of fizz on a summer's afternoon, the tart features a buttery sweet pastry case filled with a layer of blackcurrant jam, lemon blondie made with Amalfi lemons, a topping of blackcurrants and a drizzle of white Belgian chocolate.
Sold in boxes of four, the tarts are available for home delivery from the Ginger Bakers website, priced at £12 plus postage and packing. They can also be bought from selected Ginger Bakers retailers across the UK.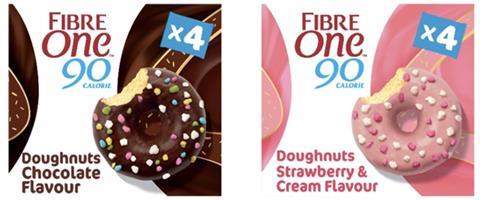 Fibre One 90 Calorie, Chocolate and Strawberry & Cream doughnuts
With the trend for lower calorie doughnuts gathering pace, better-for-you snack maker Fibre One 90 Calorie has thrown its hat into the ring.
Available in two variants – Chocolate and Strawberry & Cream– the doughnuts are coated with a smooth topping and finished with sweet sprinkles. As well as a reduced calorie count, the doughnuts offer higher fibre, according to the manufacturer.
"Fibre One 90 Calorie's positioning has always been about offering our consumers what they crave," said Adrienne Burke, marketing manager.
"Now, we're taking things up a notch with the most meaningful NPD we've ever proposed to our consumers. New Fibre One 90 Calorie Doughnuts are the perfect permissible alternative to one of the UK's favourite treats."
Tesco is currently stocking the products (rsp: £2.89), with more retailers to follow suit throughout the summer.