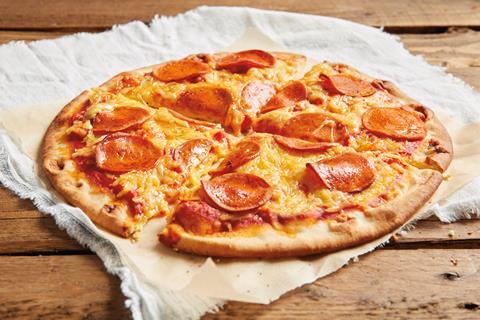 Morrisons has launched a vegan pizza with a pepperoni alternative.
The 10" Vegan No Pepperoni Pizza comprises a vegan dough, topped with plant-based cheese and a vegan pepperoni alternative, made from a blend of pea protein and spices.
Available at pizza counters in the majority of Morrison stores for an rsp of £2.50, the pizza is less than a quarter of the price of Pizza Hut's £11.89 Veggie Pepperphoni, the retailer said.
Designed for those looking to cut down on their meat intake, it mimics the meaty taste and texture of the cheesy and spicy original, it added.
"We have listened to the many customers who want more vegan options at our pizza counters and have worked hard to bring them their favourite toppings without compromising on flavour. The new Vegan No Pepperoni Pizza offers a convincing meat-free alternative and tastes just like the original," said Leanne Cory, pizza counter buyer at Morrisons.
The range of vegan pizzas on the market has been growing over the past year or so as big name pizza brands, such as Goodfella's and Chicago Town, vie for a slice of the action.