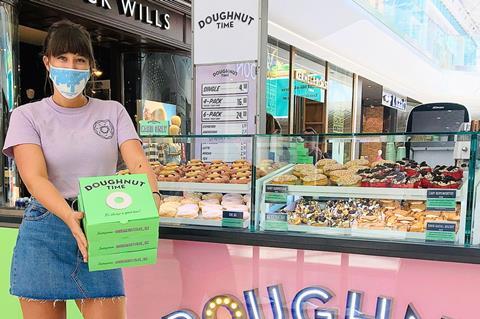 Doughnut Time has opened a new store at Westfield Shepherd's Bush.
The new site, which is located on the ground floor near John Lewis, will offer Doughnut Time's full menu, including the new Karamel Kardashian doughnut, which is topped with chocolate glaze, salted caramel, Lotus Biscoff crumb and Biscoff choc brownie.
Other menu items include the vegan Gordon Jamsay – which is filled with jam, dipped in a strawberry glaze and rolled in a Jammie Dodger and Pink Wafer biscuit crumb before being topped with a Jammie Dodger – and the original glazed doughnut known as The O.G.
Doughnut Time said it opted for a soft launch instead of its usual big store opening, while complying with the shopping centre's strict Covid-19 regulations. It is hoping to organise a launch party once Covid-19 restrictions have lifted, it added.
"We've wanted to open a store in Westfield Shepherd's Bush for a while now and this period following the UK's lockdown was the perfect opportunity to knuckle down with the team and bring the concept to life. Things are very slowly returning to normal and we're excited to welcome both new and existing customers to the store!" said Thomas Anderson, CEO of Doughnut Time.
Customers can also order doughnuts from the Shepherd's Bush store via Deliveroo.
The store is open from 10am-8pm on Monday–Saturday and 12-6pm on Sunday.
Doughnut Time has 11 London stores including Soho, Borough High Street, Upper Street, Notting Hill, Wardour Street, Bond Street, Shoreditch, Westfield Stratford, Cheapside and Covent Garden.