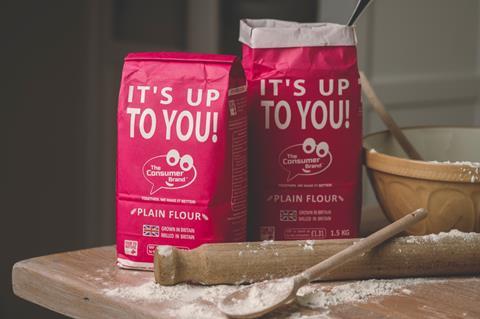 A new organisation called The Consumer Brand has launched 'It's Up To You' flour, produced and priced according to public views on key environmental factors.
The community interest company is based on a model established in France five years ago where consumer feedback determines production chain parameters for milk and other products. These parameters include farming practices and manufacturing processes as well as the recommended retail price.
The Consumer Brand polled its community of 2,332 people before launching the flour, which is produced and sold by Matthews Cotswold Flour. The questionnaire asked what key attributes were important to the consumer and based on their selection they could see how those choices would affect the final price.
According to the organisation, respondents voted 'overwhelmingly' for a flour that only used wheat sourced from British farms, contained no genetically modified organisms, and was cultivated to standards set by RSPB-backed Fair to Nature.
The results also determined that the flour should be packed in FSC-certified paper, a 2p per bag donation should be made to the Nature Friendly Farming Network, and farmers should receive 32p per bag.
"The British farmers providing the wheat for The Consumer Brand's new It's Up to You Flour are now on a deal assuring them a set price per tonne over three years which enables them to embrace agricultural practices that improve biodiversity and soil health to help look after the environment," said Pascal Hegglin, co-founder of The Consumer Brand.
"But The Consumer Brand is more than a simple fair trade style of initiative," he added. "It is a group of people who share values, who share the idea that there should be more transparency in the supply chain, more emphasis on farmers and the environment and are willing to pay a little extra cost to achieve this."
The organisation said it identified Matthews Cotswold Flour as a suitable producer of It's Up to You Flour because it 'uses as many local farmers as possible and works with Fair To Nature to improve biodiversity and soil health to help look after the environment'.
It's Up To You flour is available in 1.5kg bags, priced at £1.31, from the Matthews Cotswold Flour website.