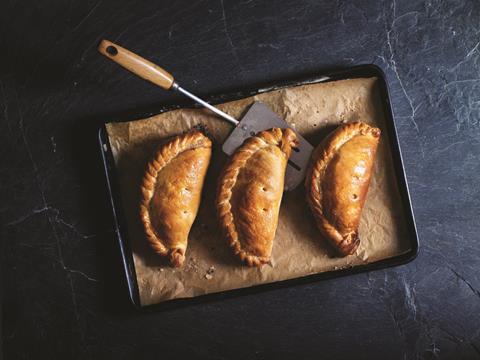 Cornish pasties and Melton Mowbray pork pies are among the products subject to new legislation regarding geographical indications laid out by the Department for Environment, Food and Rural Affairs (Defra).
The UK's geographical indications (GI) scheme, which will replace the EU's scheme on 1 January 2021 when the transition period ends, was laid out in parliament today (22 October 2020).
It outlines new rules and logos designed to protect British food and drink by guaranteeing the authenticity of regional and traditional foods for shoppers as well as protecting British producers from imitation. They're only awarded to foods whose authenticity and origin can be guaranteed.
As well as Cornish pasties and Melton Mowbray pork pies, this includes stilton cheese, Scotch whisky, Welsh lamb and Cornish clotted cream.
Registered producers of British food, drink and agricultural GI products that are required to use the logos will have until 1 January 2024 to change packaging to display the new UK GI logos. Guidance is available on Gov.UK including for the simplified process on new UK GI application.
GIs are highly valued by producers, according to Defra, and they represent around a quarter of UK food and drink exports by value, approaching £6bn in 2019.
The UK GI scheme designations are broken down to:
Protected Designations of Origin (PDO) which requires all aspects of production, including sourcing materials, to take place within the defined geographical area
Protected Geographical Indications (PGI) means that some elements of production and/or raw materials can take place outside the defined geographical area
Traditional Speciality Guaranteed (TSG) is for a product made to a traditional recipe or method, but it does not have to be made in a specific area.
"The new UK protected food name scheme will replace the old EU one and will ensure that we continue to recognise and celebrate protected food names and local recipes across our country," said environment secretary George Eustice.
The move was welcomed by the Cornish Pasty Association (CPA), which aims to 'champion and protect the authenticity' of the genuine Cornish pasty.
"The Cornish Pasty Association is very pleased to see the introduction of the new UK GI Scheme and welcomes the guidance provided by the government on the implementation of the new symbols," said CPA chair Jason Jobling.
"The key priority now is to obtain clarity on the future trading relationship with the EU to aid those who export/import products both sides of the channel. We would also like to see a promotional plan to accompany the new UK GI scheme to help shoppers fully understand it and recognise the new symbols."
The PGI was granted to Cornish pasties in 2011 and applies to products made commercially.
In 2019, Cornish pasties were named the most recognised GI products in the UK, according to research by PR agency Brand Dialogue, with Melton Mowbray Pork Pies coming in fourth.