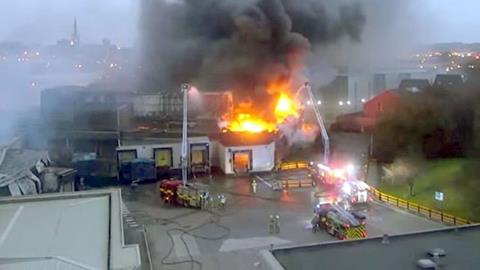 Drone footage of the devastating fire at Speedibake's factory in Yorkshire has been released by fire fighters.
The West Yorkshire Fire & Rescue Service video revealed the extent of the fire, which broke out Saturday lunchtime at the site in Colinsway, Wakefield.
Firefighters were still at the factory yesterday (3 February), damping down the area of the blaze. Demolition work is expected to be under way at the site over the next few days.
No-one was injured at the factory, which produces doughnuts, mince pies and speciality breads. Speedibake's other facility in Bradford remains fully operational.
The company, which is part of the AB Grains business, owned by Associated British Foods, said it was "extremely grateful for the ongoing work and tireless support of the emergency services".
"We continue to work with the fire service as they remain on-site and can confirm the building was evacuated swiftly in line with our procedures and there were no injuries reported to any of our employees."