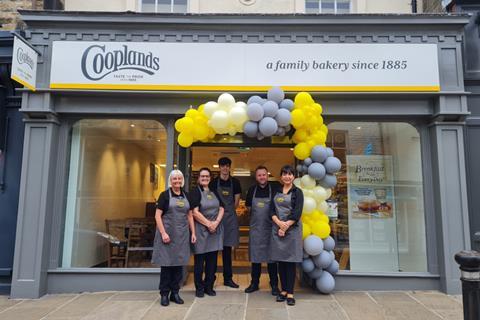 Cooplands owner EG Group has announced plans to create jobs for around 500 apprentices over a three-year period.
As well as the Scarborough-headquartered bakery chain, which the group purchased last year, opportunities will be available at fast food brand Leon and the EG head office.
The apprentices will cover a wide range of disciplines and departments, including human resources and payroll, finance, legal, surveying, insurance, data analytics and information technology. Apprentices will also be able to take up learning opportunities at site level within foodservice, fuel, grocery, and merchandise workstreams, including courses in retail management and hospitality management.
The goal is to provide individuals the opportunity to develop their skills, behaviour and knowledge while gaining invaluable practical experience, EG Group said.
"As a business, we thrive on providing learning and development for colleagues and we are committed to building for the future and supporting individuals to gains skills and experience across the business," said Vincent O'Donovan, head of learning & development at EG Group.
The expansion of the company's apprenticeship programme follows a trial and subsequent graduation of EG's first cohort of 33 apprentices in September 2021, with the group completing a 24-month Retailer Level 2 apprenticeship. According to EG, 25% of the cohort graduated with a distinction, and 45% have since progressed into more senior roles.
"The wider apprenticeship programme has already helped the operations team to grow and develop," said Ahmed Kazi, group operations director at EG Group. "Many of our colleagues have grown with the business gaining hands-on work experience and by providing them suitable vocational learning they now have the necessary confidence and competencies to review a wide range of business functions and associated service contracts.
"The apprenticeship programme is helping us to take operational excellence to the next level, as part of our efforts to equip colleagues with the skills of tomorrow," Kazi added.
Lisa Mugridge, L&D partner at Cooplands, revealed that the bakery chain was launching its first leadership development apprenticeship pProgramme in April 2022.
"We have eight pprentices starting on L3 and L5 programmes with a further seven apprenticeships starting their journey on an L6 in May 2022," she said. "In addition to this we also have apprenticeship opportunities in HR and L&D.
"We are committed to developing our colleagues and will be offering further opportunities in other business areas throughout the year, to enable our colleagues to grow and gain new skills and experiences and to recruit new individuals into the business through an apprenticeship route," Mugridge added.