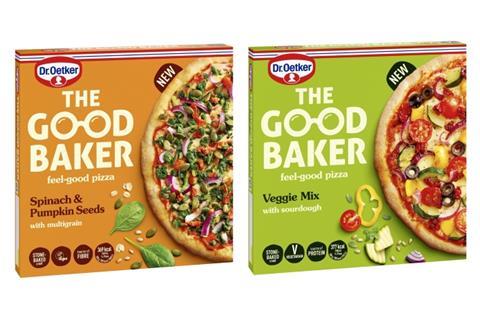 Dr Oetker has launched a new frozen pizza brand called The Good Baker, with an onus on better-for-you ingredients and sustainability.
The stone-baked pizzas, which come in four meat-free varieties, have 'thin and crispy' bases made with long-fermented doughs featuring wholegrain. Other ingredients include extra virgin olive oil and sea salt.
The manufacturer claims the pizzas to be HFSS compliant and free from artificial flavours, with some providing a source of fibre and others offering protein. Packing is fully recyclable, Dr Oetker said, with the box itself being recycled and certified by FSC.
The range comprises the following:
· The Easy, Cheesy Seedy One: margherita multigrain with flaxseeds
· The Meat-Free, not Treat-Free: meat-free Bolognese multigrain with sunflower seeds
· One for the Veggie Lover: veggie mix (grilled peppers, zucchini, cherry & marinated tomato, red onions and black olives) with sourdough
· Vegan Superstar: spinach and pumpkin seeds with multigrain.
Dr Oetker said The Good Baker has been launched in response to an increased interest in health foods among younger shoppers, and to counteract preconceptions that pizza can't provide better-for-you ingredients. The manufacturer worked alongside consumer testing groups to create the recipes, it added.
"We're incredibly excited to announce the launch of this new brand to market," said Josephine Skinner at The Good Baker. "We have seen many fun, exciting positive health brands abound across other categories and we have identified a white space in the world of frozen pizzas for consumers who want to balance great tasting food, with the feeling of making a healthier choice.
"We've seen younger shoppers buy into the frozen pizza category much less frequently, with a range of barriers from guilt, quality and sustainability concerns. The Good Baker is designed to challenge some of these long-held views, to build the category of the future," Skinner added.
The brand launches with a marketing plan costing over £1m, including national out of home activity, partnerships, digital support, experiential and in-store activations, Dr Oetker said.
The core range of Good Baker pizzas each have an rsp of £3.69, with the Vegan Superstar carrying an rsp of £4.19 and will be available nationally from mid-September.