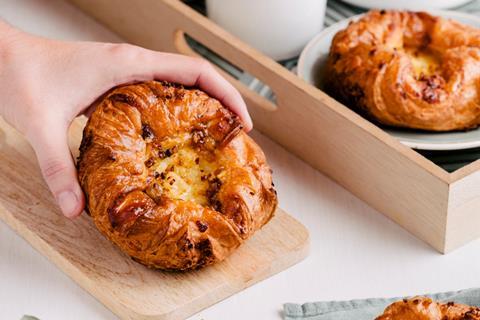 Summer is still with us and even if the weather doesn't fall into line, bakery brands are doing their best to spread joy with new product launches.
Following on from part one of our summer 2021 NPD round-up, here we take a look at more of the latest fare on the bakery market, from chocolate treats to traditional muffins: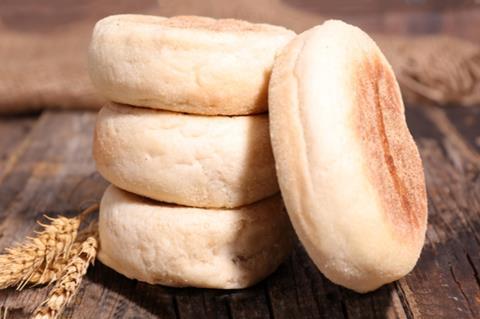 Breakfast muffins, Fatherson Bakery
Warwickshire-based Fatherson Bakery has added breakfast muffins to its expanding range of baked goods.
Free from palm oil, the pre-sliced muffins are frozen for freshness with a 12-month shelf life.
"The addition of the breakfast muffin to our product portfolio bolsters our range of baked goods that can be enjoyed in the home, with that homemade taste," said Laurence Smith, owner and managing director of Fatherson Bakery.
The muffins are available in frozen cases of 24 packs of four and are marketed as being suitable for vegans.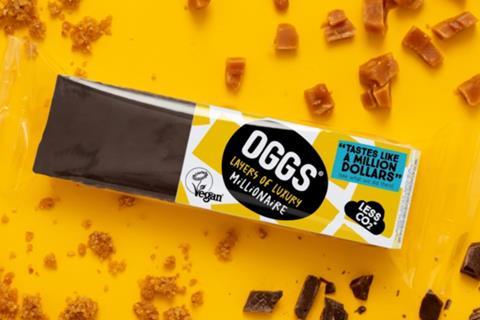 Snack bars, Oggs
Vegan brand Oggs is rolling out a range of food-to-go snack bars, available from WHSmith Travel stores from September.
The range comprises Brownie, Flapjack, Millionaire and Tiffin varieties. The 100% plant-based bars are made with Oggs' egg alternative aquafaba, which according to the brand produces 75% carbon dioxide equivalent than eggs.
"To make the biggest positive impact on the planet we all need to make tiny but significant, better choices and increasing the convenience of ethical snack food is a brilliant place to start," said Ogg founder Hannah Carter.
Each Ogg snack bar weighs in at 60g with an RSP of £1.65.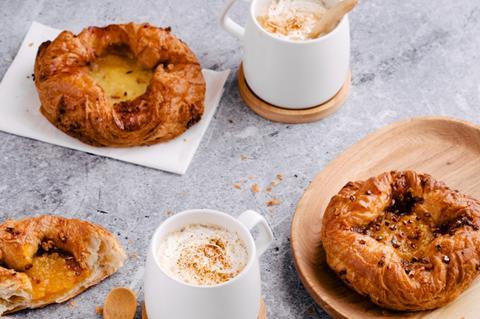 Danish crowns, Bridor
French bakery manufacturer Bridor has launched a new Danish Crown pastry as part of its stated mission to 'share the bakery cultures of the world'.
According to Bridor the pastry retains its 'iconic shape, laminated look and light, crispy texture' due to a lamination technique that alternates up to 27 think layers of margarine and pastry.
The Danish Crown is available in three 90g versions, all of which are suitable for vegans according to the manufacturer:
· Cherry and flax seed – featuring a cherry centre and crunchy brown flax seed topping
· Vanilla and chopped hazelnut crown – with a creamy vanilla flavour, brown sugar and hazelnut topping
· Orange and chopped hazelnut – an orange-flavoured crown with brown sugar giving a caramelised taste to accompany the crunchy hazelnut topping.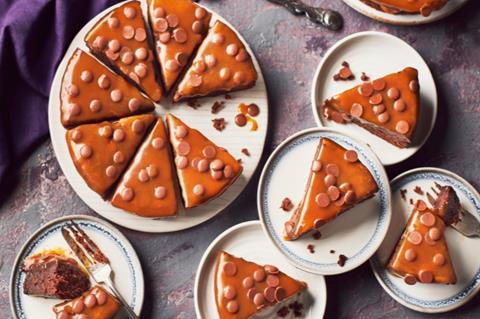 Brownies, Vittles Food
Vittles Foods has teamed up with Mondelēz to launch a range of Cadbury Dairy Milk Chocolate Brownies.
Exclusive to Iceland and Food Warehouse, the brownies come in Dairy Milk and Dairy Milk Caramel varieties.
The Dairy Milk brownie is covered in a chocolate sauce, while the Dairy Milk Caramel variety features a caramel-flavoured sauce and Cadbury Milk Chocolate Buttons. Both products can be served either hot or cold and can be heated from frozen in a microwave in two minutes.
"We are delighted with these Cadbury Dairy Milk Brownies; they encapsulate that moreish Cadbury chocolate taste which we all know and love, and as they go so well with a scoop of ice cream, we knew Iceland would be the ideal listing for these decadent desserts," said Alastair Crimp, sales director for Vittles Foods.
Both varieties of brownie are sold in 400g packs to serve four to five people and have an rsp of £3.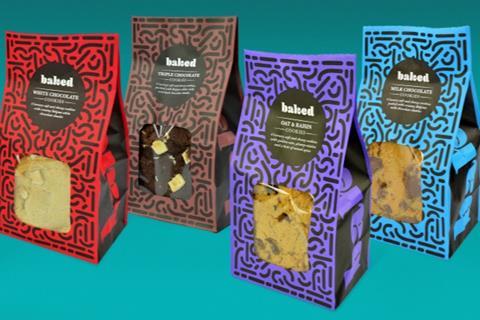 Cookies, Rich's
Baked 'thaw and serve' cookies, manufactured by Rich Products, have won a trial listing in Tesco Express.
White Chocolate, Triple Chocolate and Oat & Raisin varieties are now available nationwide in Tesco Express' 1,500 stores, sold in packs of four.
Since launching in June 2020, Baked's thaw and serve retail-ready cookies, muffins and buns are now worth over £2.5m following listings across One Stop and Spar Scotland, Rich's said.
A new partnership with Eden Farm Wholesale is supporting further distribution across the UK impulse channel and has also resulted in a listing in Scotland's KeyStore estate.
"We're proud of the success Baked has had in just a under a year, and this listing in Tesco Express is another step forward," said John Want, sales, marketing and R&D director at Rich's.