Hot chocolate might be viewed as a seasonal drink, but independent research shows it's the second most popular hot beverage to buy out of home – beating tea!1 Here, Zareen Deboo, Foodservice Channel Operators Manager, Ferrero UK & Ireland, shows you how to make the most of your hot chocolate offering all year round.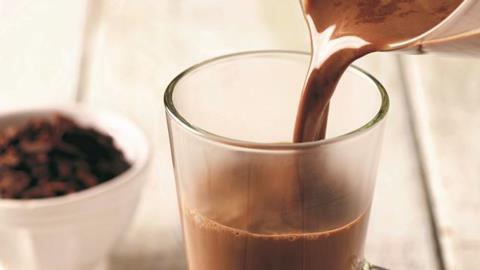 A hot opportunity
A staggering 210 million hot chocolates are served out-of-home2. Consumers cannot get enough of the cocoa-based drink and it has seen the greatest growth of all hot drinks over the last year.
However, as with the coffee movement, consumer expectations are changing. Chocolate fans are increasingly looking for the best hot chocolate experience on offer and something different to what they might drink at home.
Taste
Taste and quality are crucial. Research shows that operators could make their offerings even better as currently just six out of 10 people say they have had an excellent hot chocolate from a café3.
Upgrade your offering
With research showing there is a hot opportunity to improve consumer experience and really start profiting (see infographic left), there has never been a better time to look at your offering. Excellent hot chocolate starts with top-quality ingredients and working with knowledgeable chocolatiers – think real milk chocolate and a smooth creamy finish. The best hot chocolate doesn't need to hide behind cream and marshmallows to make it delicious – and this is also an important consideration for responsible operators who consider the sugar content and calories of their hot drinks.
Brand benefits
Now, the confectionery brand trend is big in the bakery world and is spilling into hot chocolate drinks. By using brands on their menus, bakery and café operators can instantly boost appeal and sales. In fact, findings show that 75% of people would prefer a branded hot chocolate – or even more depending on the heritage of the brand. In fact, in independent research, 90% of consumers have said they would opt for Thorntons Hot Chocolate if it was on offer.3
Margin makers
Thanks to the reassurance they give to consumers, brands command a higher price point. So, too, will hot chocolate powders that have the bonus of not needing to add milk. With a better margin than coffee, product innovations mean cafés can offer creamy hot chocolates without the hassle or costs attached to frothing milk.
Repeat business
A consistent and quality offering is the secret to repeat business, so barista-standard hot chocolate is a must. Using a hot chocolate designed for catering outlets will take the pressure off your operation by doing the hard work for you. Look for ease of dispensing and products that give you a consistent result, no matter the experience of your team.
Backed with 100 years of quality and craftsmanship, Ferrero Foodservice's new Thorntons Luxury Hot Chocolate Powder is made using Thorntons secret chocolate recipe. Containing milk powder, caterers simply need to add water to instantly create a luxurious hot chocolate. The range includes a 1.6kg catering pouch, 21g single-serve sachet for in-rooms, and a 12oz cup for on-board services.
Click here if you want to stir up your hot chocolate and claim your FREE Thorntons Luxury Hot Chocolate Sample today.
For more information on Thorntons and the Ferrero Foodservice range www.ferrerofoodservice.com

Research sources:
1 Ferrero/Toluna August 2017, 2NPD Crest Dec '17, 3 Ferrero/Sapio August 2018