Over the next five years, the grab-and-go market is forecast to grow at twice the rate of other food channels and reach a value of £21.2bn1. Here, Zareen Deboo, Foodservice Channel Operators Manager, Ferrero UK & Ireland, offers a guide to grabbing a piece of the booming on-the-go sector.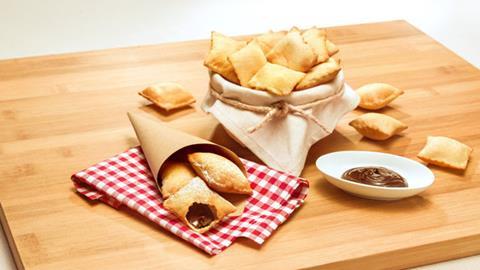 The GO-pportunity
The on-the-go market is one the bakery sector could be grabbing with both hands! A whopping 71% of consumers now eat breakfast on-the-go and an even higher number – 79% – are buying mid-morning and afternoon treats2, so it's little wonder the market is growing at double the rate of others. With operators and retailers all competing, it's crucial to get to grips with consumer grazing habits and the bakery must-haves to stay one step ahead.
Early bird catches the worm
With commuter journeys growing and the days of 9-5 a thing of the past, it's unsurprising that breakfast is the driving force of on-the-go. A staggering seven out of 10 people now buy their breakfast on the move.2 Wondering what to stock? Research shows that easy-to-eat breakfast baps, sweet pastries and muffins are all in the top five for early risers.
Snack attack
When it comes to peak snack times, nearly a third of consumers (32%) admit to getting peckish mid-morning, and nearly a quarter (23%) of people in the afternoon admit the same. Treats are generally sweet, with the classic muffin or a sweet pastry the preferred mid-morning snack, and cakes or donuts the treat of choice for afternoon munchies.2
Avoiding menu boredom
With grab-and-go purchasing at an all-time high, demand and expectation is growing too. In research, 64% of consumers said they were bored with the offerings available and wanted new and exciting options they couldn't get anywhere else.2
You don't have to reinvent the wheel
It can be tempting to overhaul your menu – don't. Classics such as pastries, muffins, cookies and brownies will always be best-sellers and a simple update with a seasonal ingredient, the latest 'on-trend' colour or a sprinkle of brand power could drive profits even further.
Brand power
The confectionery brand trend has become increasingly prevalent in the bakery world. Using brands on menus, with the proper permission from the brand owner, enables bakery and café operators to instantly boost appeal and sales.
In fact, findings show that over half of consumers would like to see more grab-and-go options finished with Nutella and a staggering 84% would pay up to £1 more for an item finished with the super brand's unique hazelnut and cocoa spread.3
Nutella can be added to a wide range of popular bakery items and is the easy way to add value and variety to everyday items with the nation's number one sweet spread.3 Whether it's the finishing touch to a croissant, a hidden middle in a muffin or drizzled over a cookie.
To grab a piece of the market and learn how Nutella can support your business here.
For 50 years, Ferrero has built a legion of Nutella fans. Its unique hazelnut taste and versatility has made it a menu must-have. The foodservice range includes a ready-to-use 1kg piping bag – just snip and pipe to add the finishing touch to your bakery items, a 1.35kg tub, as well as a 3kg tub for high volume users.
For more information on Nutella and the Ferrero Foodservice range visit www.ferrerofoodservice.com
1 MCA grab-and-go report 2019
2 Ferrero/Toluna 300 online interviews, October 2019
3 Nielsen Scantrack, Total Spreads, Total Coverage, MAT to 03.08.19 based on unit sales