Key consumer trends influencing the bakery snacking market in 2020 and beyond highlight opportunities for bakers to satisfy consumers with guilt-free indulgence. Natalie Drake, bakery category manager at Synergy Flavours, takes a closer look.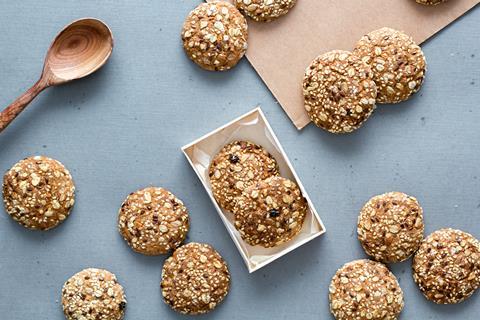 As we all take a step into the unknown of our new normal, consumers are more focused on their health and wellbeing than ever before. However, with taste still the top priority for sweet bakery consumers, how can manufacturers find the right balance between products that taste good but also deliver on nutritionals?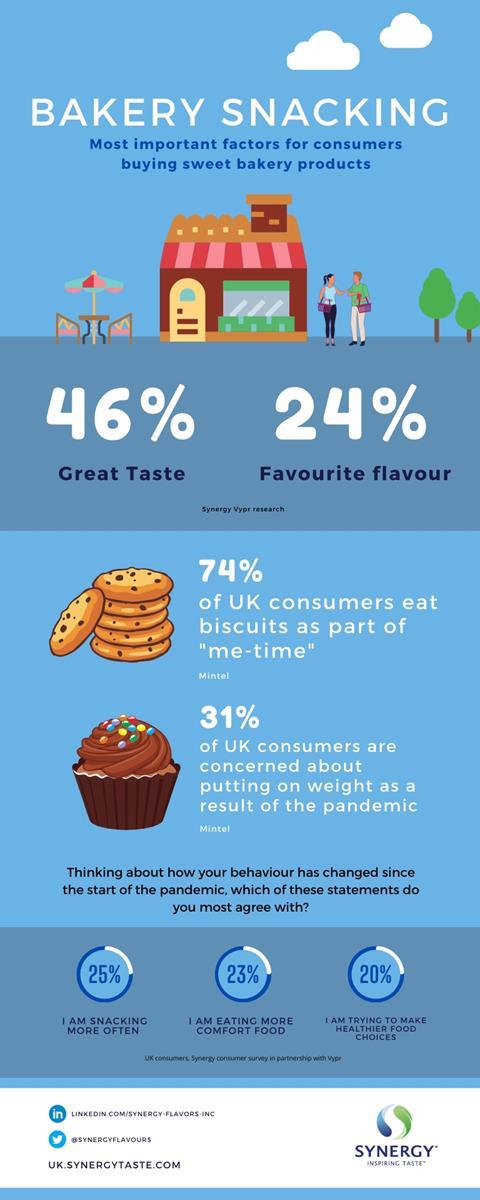 The fourth meal
The pandemic has caused a shift in many consumers' normal routines and is also having an impact on eating habits, with snacking becoming more frequent. However, data from Innova suggests that, pre-pandemic, consumers were snacking once a day (30%) or twice a day (27%)1 and this is likely to continue as life slowly returns to some form of normality. Since 2014, there has been a 14%2 increase in new product launches that carry a snacking claim across all product. With between-meal eating on the rise, consumers will be looking further than products to satiate hunger and more towards products that offer additional benefits to their lives.
The need for natural
Today's consumers want to know more about the products they are buying than ever before and this is being accelerated by the global pandemic as back stories are used to add an element of trust for anxious shoppers. In fact, 37%3 of sweet biscuit consumers in the UK are looking for naturally healthy ingredients. Specific product call-outs such as '100% natural' or 'pure vanilla extract' will continue to rise as manufacturers feel increasing pressure to explain their ingredients in more detail.
Many consumers are now also turning to products that have less sweet flavour profiles in order to naturally reduce the amount of sugar in their diets. Dark chocolate, for example, is rapidly gaining traction in this space with 3.5% predicted growth by 2021 vs 2.1% growth for milk chocolate4. Other flavours that lend themselves well to the 'less sweet' trend include citrus fruits, botanicals, florals and even tea and coffee.
Manufacturers are also harnessing the power of vegetables to create more of a health image as ingredients like beetroot, sweet potato and spinach begin to make appearances in more sweet products. Naturally colourful vegetables can also appeal to Millennial and Gen Z consumers who are sharing bright and bold foods on social media.
Healthier image
While it's clear that the priority for sweet bakery consumers is taste, there is an important balancing act for manufacturers to take between indulgence and health. Mintel data suggests that as many as 43%5 of parents in the UK are concerned about the amount of sugar in their children's diets and almost 50%6 of consumers in the UK countries agree there is not a wide enough selection of healthy biscuits in the supermarket.
Reformulating products to reduce levels of sugar or calories presents a number of challenges relating to taste, sweetness and mouthfeel. The dedicated taste modulation team at Synergy are familiar with these challenges and take a science-led approach for each individual reformulation project. Understanding the complex function of fat and sugar within bakery recipes starts with sensory analysis of both full-calorie and reduced calorie products.
Comparing sensory qualities of the two recipes allows flavourists and application technologists to develop a bespoke solution that builds on indulgence, sweetness and flavour intensity, bridging the gap in taste qualities. Tackling loss of sweetness involves calling on Synergy's range of sweetness modulator flavourings that increase sweetness perception in bakery products.
Mouthfeel and indulgence can be improved with the addition of Synergy's concentrated dairy flavours that use proprietary processes to capture the creaminess and indulgence of real dairy ingredients without the calories. All of Synergy's taste modulation solutions are declarable as natural flavourings and are developed in collaboration with customers, calling on application expertise across the innovation team.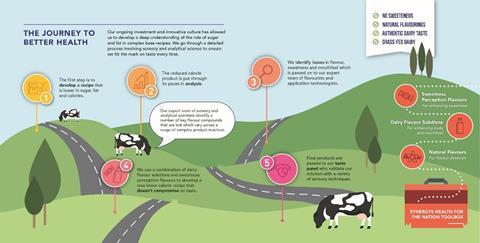 Make it functional
Consumers are increasingly becoming more interested in improving their holistic health both physically and mentally, something that has been highlighted further in light of the pandemic. Going beyond products that simply satiate hunger, functional benefits such as added fibre, protein and mood-boosting properties are all becoming additional selling points for customers. The events of recent times have put a spotlight on gut health as we saw sales of kefir products grow by almost 50% at the start of lockdown in the UK7. There are plenty of opportunities for gut health to be highlighted in the bakery category since currently only 0.52% of all bakery products call out a specific digestive claim vs. 1.2% of all food and drink8.
Added protein is another functional claim that has opportunities to grow in the bakery category. Many indulgent products, such as cookies and cakes, increasingly call out protein as a way to make them more permissibly indulgent. In fact, 27%9 of consumers who eat cookies or biscuits have a perception that products with high protein are healthier. Bakery manufacturers have a great opportunity to follow the success of protein fortification seen in the confectionery aisle with the likes of Mars and Cadbury by developing high-protein products that deliver on indulgence and flavour.
An interesting area for growth over the next few years is the concept of foods for wellness. We are beginning to see innovation in the food for wellbeing space, as snacking products are becoming a vehicle for mood-boosting, cognitive and sleep or relaxation claims. According to a recent survey by Mintel10, half of consumers are now finding it harder to sleep, which could explain why we are starting to see some innovation around the bedtime eating occasion. Flavours such as lavender, honey and chamomile could create a health and wellbeing 'halo' for bakery products, with sleep-promoting properties. At the other end of the scale, multi-tasking consumers are seeking out energy-boosting snacks for their busy lifestyles. The concept of 'ready-to-eat' coffee could be explored further as there has been a 34%11 increase in coffee-flavoured snack bars and it is a popular profile that lends itself well to bakery products.
Leave some room for indulgence
While many consumers acknowledge the need to make changes to their diet as a result of the pandemic, 46%12 of consumers surveyed by Synergy still put 'great taste' at the top of their list when purchasing sweet bakery products. A further 24%13 would choose a product based on the fact that it contained their favourite flavour. So, what are some of the emerging trends we are seeing in the indulgence space?
Multi-sensory is an area that could be exploited by bakery manufacturers. Twenty-three per cent14 of UK consumers say they love trying new experiences, so experimenting with flavours, textures and visuals could be a great way to tap into this trend. Combining crunchy texture with smooth, overloading with indulgent creamy fillings and creating half-and-half flavoured products are just some of the ways a sensory adventure can be created.
Salted caramel is one of the fastest growing flavours in the indulgence space, with 35%15 growth in new product launches over the past two years. The million-dollar question for many of the producers of these indulgent products is what's next for this much loved flavour? We could start to see innovation around new salted flavours such as chocolate, maple or honey. Alternatively, there might be new twists on caramel with additions such as coffee, brown butter or even miso for the ultimate sweet/savoury combination.
In terms of flavour innovation, classic desserts could be a great source of inspiration for the bakery category. Consumers like to see their favourite flavours transported into other novel product categories, with 50%16 of European consumers saying they would like to see new cookies with indulgent 'dessert flavours'. This is already a key trend in the US as dessert-inspired cookies or bite-size bakery items with dessert flavours such as apple pie, lemon tart or ice cream sundae could offer a permissibly indulgent alternative to a highly calorific dessert. For the UK market, British nostalgia is on-trend again as 60%17 of consumers say they would be interested in buying discontinued brands from their childhood. Classic combinations such as banoffee, rhubarb and custard or sticky toffee are likely to have high appeal as well as the classic sweet shop flavours that bring back childhood memories.
With consumers increasingly trying to perfect the balance between healthy eating and indulgent treats, it is important for bakery manufacturers to carefully consider both aspects in order to create a winning product for today's consumers.
To find out more about Synergy Flavours and how they can help you to develop inspiring bakery products, please click here.
Sources
1 Snacking, the definitive occasion, Innova consumer insights, IFT 2019
2 Mintel GNPD
3 Mintel 2019, A year of innovation in biscuits, cookies & crackers
4 Euromonitor, Packaged food forecast model, 2019
5 Mintel, Sept 2019, Attitudes towards sugar and sweeteners – UK
6 Mintel 2020, Sweet biscuits and snack bars – UK
7 The Grocer https://www.thegrocer.co.uk/dairy/pandemic-triggers-increased-demand-for-gut-health-products/603605.article
8 Mintel GNPD
9 Mintel 2019, Cookies can catch the high protein wave
10 Mintel 2020, Covid 19 and the future of between meal snacking
11 Mintel 2020, Post-Covid opportunities for snack bars
12+13 Vypr consumer panel: Synergy primary research
14 IFT 2019, Snacking, the definitive occasion, Innova consumer insights
15 Mintel GNPD
16 Mintel 2018, Dessert flavoured cookies could stand in for desserts
17 The Food People: Foodwatching: Acceptable in the '90s