Margarine works just as well as, if not better than, butter in cake baking. But it needs to be of good quality to ensure a great result, argues Vandemoortele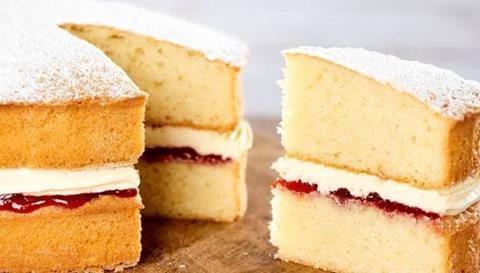 Across their working lives, bakers use butters and vegetable-based margarines in all sorts of different applications. Generally speaking, with margarines you get what you pay for – and buying cheap can cost you twice, in terms of loss of quality and a reduction in repeat sales.
However, bakers don't need to spend a fortune to get a great product, either! If you choose a better functional margarine, then you may find that you can adjust your recipe to use slightly less margarine and make a great end-product. For example, if you are making crème and are depositing by volume, you will find that the product will aerate more and be very stable. You could potentially use less crème, which could also help to reduce the use of sugar and the cost of the finished product.
Making it work
Celebrity chef Mary Berry advocates that the best fat to use for making great, consistent cake is a good vegetable margarine. She makes a good point! A good cake margarine breaks down more efficiently with the sugars, beats well, aerates well and holds the emulsion more effectively when you add your liquids, such as egg, milk or water, to the creamed margarine and sugar – and can allow for slightly higher liquid additions over butter. Cake margarines can also give a more consistent crumb structure in the cake. Using the right cake margarine with good flavour and a very low melt point will leave your customers wondering if you've actually used butter.
Yet, with so many great products and innovations available to bakers nowadays – and with influences from all over the world and with more demanding customers who follow food trends and increasingly seek variety and healthier options – it can be difficult to know which product is the best choice.
Growing skills
In an industry that, sadly, has lost many of its apprenticeships and craft colleges – and, with this, a loss of traditional bakery skills – it is perhaps understandable that there has been an increase in the use of ready-to-use and premix powder products, as there is still the need to produce a wide range of items consistently, and with less labour.
However, the great news is that there has been a resurgence in artisan bakeries of late, as well as an upturn in opportunities to train all ages of employees entering the wonderful craft of bakery – and thus build back a strong skill base.
With more opportunities to develop business and demand for more individual signature products, the ability to use both pre-mix and scratch recipes has never been more exciting.
Choosing quality
Yet apart from this growing skillset, the quality of the end-product will always be a reflection, in part, of the quality of the ingredients used.
Vandemoortele has always had an invested interest in artisan bakery, offering a wide range of margarines – butter-rich blends – fats and shortenings for all applications and developed for constant quality and flavour in the finished product.
Among these is Bakers Supreme Cake Margarine, developed as a softer cake margarine that gives good, stable aeration and great flavour, offering full flexibility across all bakery applications. Advantages include:
A full butter taste to both baked and unbaked products
An excellent overrun capacity, resulting in light cake and cream batters
Ease of use, thanks to its smooth texture
Made with non-hydrogenated oils and fats, that are RSPO approved
Great as a cream filling or toppings on its own, with no added butter and no compromise on taste
Versatility, from shortcrust and sweet pastry to delivering a short, butter, crisp product on biscuits, cookies, breads, buns, brioches and enriched breads, as well as Danish pastry.
Suitable for vegetarians and vegans
Great in lower-fat cake recipes
Whatever margarine you choose, make sure that, above all, quality counts.
For more on great cake margarines and other fats, visit https://vandemoortele.com/en-gb