With the colder months already upon us, Ferrero Foodservice reveals how hot chocolate is wooing consumers away from other alternatives, as well as the benefits it can bring to the bottom line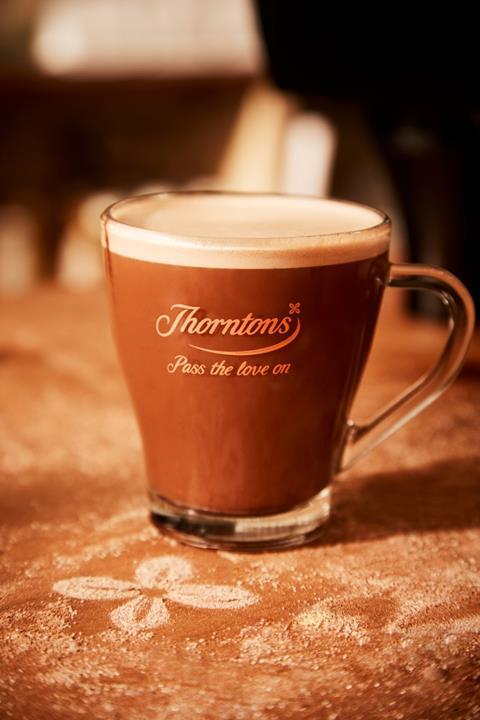 Winter is coming and as the thermometer dips below zero, the demand for hot drinks will undoubtedly rise as consumers look for a comforting moment of relief from the cold.
Among other well-known hot drinks, hot chocolate is often considered a popular drink of choice with consumers. Research shows that consumers are more likely to opt for hot chocolate over tea when out-of-home, mainly due to its perceived value¹ and hot drink vending figures also reveal that hot chocolate sales are growing, with figures from the last two years showing an increase of 7%² year-on-year. So while tea and coffee are steadily declining, hot chocolate sales are heating up!
Why is this happening?
Consumer expectations are changing – in-home coffee bars are steadily growing in popularity as we spend more time at home perfecting our latte art. This means that when consumers are buying hot drinks away from home, they want an offering that offers good value for money.
How do you give hot chocolate the 'wow' factor?
Marshmallows and whipped cream have their place, but consumers today are more adventurous than ever³. Finding a balance that appeals to adults and children is key, with exciting flavours and seasonal options to pique anyone's interest. Whatever you are offering, a great-tasting hot chocolate always starts with quality.
Research shows that, along with taste, quality is the most important factor to consumers when ordering a hot chocolate4. Working with a well-known brand and tapping into its expertise will help to guarantee this. The right brand can also help drive sales and offer that support to get the most out of your offering. When asked, three out of four people said they would prefer to order a branded hot chocolate if given the option5.
Marketing, marketing, marketing
Raising awareness of a strong hot chocolate offering is key, especially as the days get colder. Use boards for passers-by and don't forget the power of social media to reach and grow your consumer base. Make the most of brand partners who can support you. Promote them on your menu and tap into free merchandise. Something as simple as a branded takeaway cup can strengthen the quality and the value of a purchase, as well as promote your hot chocolate with locals.
So, don't underestimate the positive effect that marketing and branding can have on your business. Consumers want to be reassured in these uncertain times and established brands can help – in fact, nine out of 10 people have said they would buy a hot chocolate made by British confectionery brand, Thorntons, if they saw it6.
What about repeat business?
Being consistent with your offering is key, but this can be tricky during busy periods. By ensuring your hot chocolate is easy to make with minimal steps, it makes it easier for your teams to deliver that consistent quality that consumers love. Using a hot chocolate powder containing milk, which mixes easily with water, can help avoid unnecessary pitfalls. It can also help boost profits, increasing those marginal gains, and can make a big difference to your bottom line.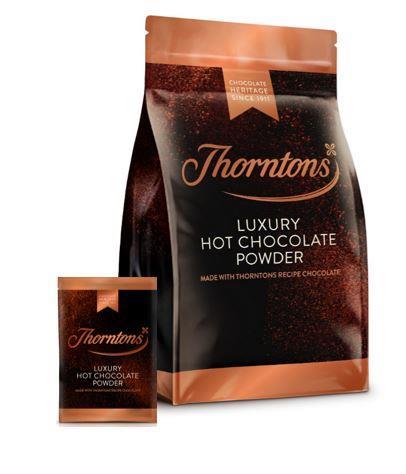 Get your takeaway offering right
With consumers limiting their time out of home during lockdown, a takeaway offering has never been more important to businesses. Service needs to be fast, efficient and safe, and a table-top machine can offer huge benefits to ensure a high level of service is met.
The hard work is done for you and they are set up to rapidly dispense a quality hot chocolate at the touch of a button, leaving you free to focus on other tasks. Best of all, they are easy to keep clean and they minimise handling, helping to ensure your hot chocolate is delivered safely.
Thorntons Luxury Hot Chocolate is ideal for cafés, bakeries and garden centres who are passionate about creating a quality and consistent hot drink experience that will drive profits. It is available now in a new 1kg vending format, as well as a 21g single serve sachet and 1.6kg catering pouch.
Win a Thorntons Table-Top Hot Chocolate Machine in time for Christmas
To celebrate Thorntons' new vending format of its Luxury Hot Chocolate, Ferrero Foodservice is giving bakery retailers the opportunity to win a top-of-the-range Thorntons branded table-top machine this Christmas*.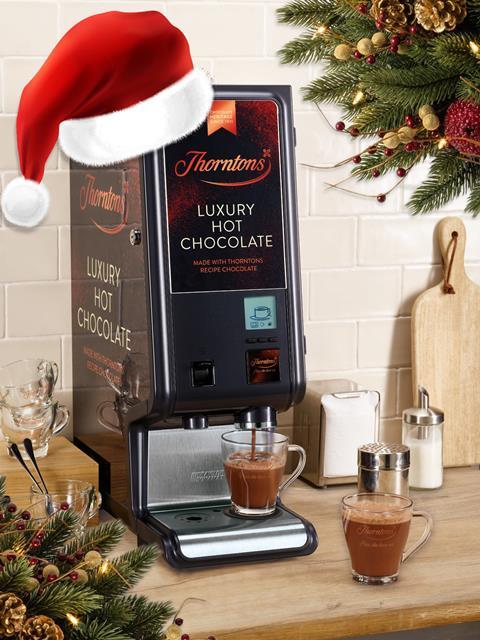 The premium machine combines 100 years of chocolate-making expertise with the latest technology, says the company. With HD touch screens, as well as nutrient and allergen information, chefs and caterers will be able to serve up Thorntons' signature taste, all at the touch of a button.
To tap into the ever-expanding hot chocolate market and be in with a chance to win, all you have to do is apply by filling out the online form on the Ferrero Foodservice website. The competition closes at midnight on 13th December 2020, the winner will be selected at random and notified by email. Every entry will receive a free sample of Thorntons Luxury Hot Chocolate. Good Luck!
*Competition Terms and Conditions
Open to bonafide UK caterers aged 18+ only. Open from 9:00 on 20/11/2020 – 23:59 on 13/12/2020. Only one entry per person. To enter visit https://www.ferrerofoodservice.com/uk/en/win-thorntons-table-top-machine and fill in the entry form by providing your name, title, email address and business address. No purchase necessary. Internet access required. Prizes: There is one prize available to be won consisting of one Thorntons Branded Hot Chocolate Table-Top Machine. For full Ts & Cs and prize details visit www.ferrerofoodservice.com/uk/en/competition-terms-and-conditions Promoter: Ferrero UK Limited, 889 Greenford Road, Greenford UB6 0HE.

To learn more about Thorntons Luxury Hot Chocolate visit www.ferrerofoodservice.com
Sources
1 Ferrero/Sapio, August 2018
2 NPD, March 2018-20
3 MCA, 2020
4 Ferrero/Sapio, August 2018
5 Ferrero/Sapio, August 2018
6 Ferrero/Sapio, August 2018