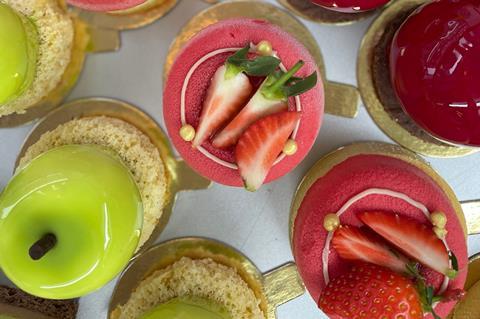 Broken Clock is adding to its Glasgow café with a second site located in Edinburgh's Bonnie & Wild Scottish Marketplace, set to open in July.
The artisan patisserie and bakery, which was named Out of Home Business of the Year at the Baking Industry Awards 2020, is expanding to the new food hall in the Scottish capital's St James Quarter after experiencing a surge in demand during lockdown. The opening will increase Broken Clock's staff numbers from 10 to 18.
The two-year-old business, ran by Anna Medjanskaja and Artem Podburtnoi, aims to combine traditional and experimental patisserie, serving restaurant-style desserts in a café setting. Sweet items on the company's current menu include Lychee & Raspberry Choux au Craquelin, Pistachio Paris-Brest, and Hot Toddy Cranachan.
According to Broken Clock, the business currently creates between 150 to 200 individual cakes daily, and Medjanskaja said an extra 450kg of Belgian chocolate had been ordered in preparation for the new opening. "Last year we went through one tonne of exquisite Belgian chocolate. This year, I expect that to double," she added.
Medjanskaja emphasised that Broken Clock will also continue to use fresh Scottish fruits, with the cakes changing regularly to reflect the changing seasons.
"At the heart of our philosophy is we need to enjoy what we eat, while also being committed to using locally sourced ingredients of the highest quality. This is something I know is important to Bonnie & Wild and the other food businesses coming into the food hall," she said.
Joining Broken Clock in the 16,700 sq ft Bonnie & Wild Scottish Marketplace will be Rico's Pasta Bar, run by the Rocca Group, and restaurant start-up Chix. The food hall will feature open-plan casual seating for almost 400 guests, along with food stalls operated by The Gannet, East Pizzas, Joelato, Erpingham House and seafood concept Creel Caught.
Sharing the news of the planned opening on its Instagram account, Broken Clock posted: "We never thought about the shopping centre, but this project is something very special and goes very well with our vision."