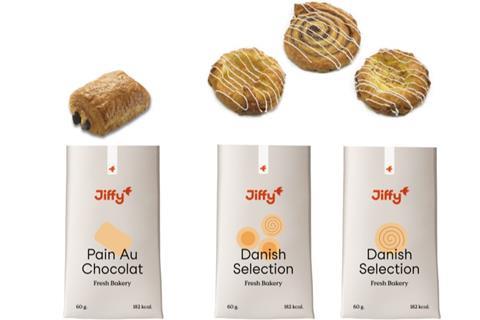 London-based local digital grocery retailer Jiffy has launched an in-house bakery service.
The move follows a 'compete brand refresh' and the company's foray into fresh foods last year with the offering of vegetables and meat.
The in-house bakery service will initially be available from Jiffy's stores in Deptford, Hackney, Stratford and Bethnal Green. The offering will consist of a range of breakfast pastries comprising pain au chocolat, all-butter croissant, almond croissant and Danish pastry selection, alongside a variety of bread including white rustic rolls, Parisian baguettes, tiger bloomers and large white loaves.
The products are produced by a foodservice supplier and baked in store, the company said.
Following the initial trial it is expected that the service will roll out to other stores across London, with goods 'baked to order' and then distributed to customers. The company also hopes to extend its offering to include fresh hot drinks.
"There's nothing like the smell and taste of freshly baked bread and pastries and that's why we are extremely excited to be leading the way with the addition of our new bakery," said Vladimir Kholiaznikov, Jiffy co-founder.
"We pride ourselves on our high-quality products and our bakery offers something for everyone – whether that's a fresh croissant for breakfast or warm bread for lunch," Kholiaznikov added.