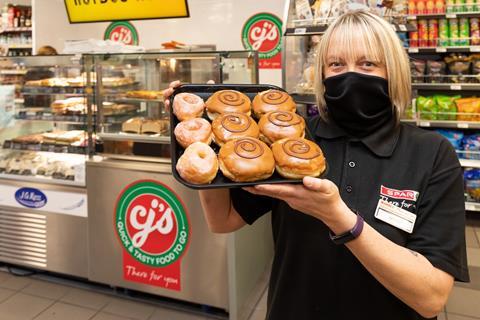 Spar Scotland has now rolled out its CJ's bakery products to 65 of its 108 company-owned stores.
The food-to-go brand was launched by the retailer in November last year and includes a range of rolls, cakes, sweet treats and hot savouries, as well as a hot breakfast and lunch offer.
"We are delighted to hit our target of installing CJ's into 65 company stores by the end of April," said Stephen Brown, head of food-to-go at Spar Scotland.
"This has been a team effort across all the company departments, and we have exciting plans in place to complete the install into all 108 company stores by September this year."
Spar Scotland is also looking to roll out the CJ's concept to independent Spar retailers around Scotland.
"It is important that we work with our independent retailers to deliver an end-to-end market leading solution in the development of food-to-go including product, process, training and legalities," Brown said.
Spar Scotland's CJ's range has been developed with support from independent bakers across Scotland, the retailer added.
"Local bakery suppliers like McGhees, Asher's, JG Ross, Stuarts, Browning's, Nevis, Kerr's and Goodfellows have all helped to support the process in stores," Brown added. "These bakers are local to the stores and well known in the communities which gives CJ's a unique local link."
Brown also revealed that Spar Scotland has a product development pipeline in place with the aim of taking advantage of seasonal and new trends.
"We have exciting plans to further grow our menu and continue to develop our food for now whilst also offering great food later," he said.
"We see food-to-go as one of the fastest growing categories within our stores and with this huge investment we are making, we are confident Spar in Scotland is leading the convenience sector."