At the height of coronavirus panic-buying in March, bakers saw demand from some retail customers hit twice the normal level. Despite the best efforts of the nation's bakery businesses, supermarket shelves were left empty of some baked goods as concerns grew over the inevitable lockdown.
It was a situation that put incredible pressure on bakery staff and the production lines handling huge quantities of dough to help meet the demand.
While the current situation is unprecedented, peaks in demand are not, so what options do businesses have for increasing dough handling capacity at short notice? And how can efficiency be maximised during normal operation?
"It's always difficult to deal with an increase or decrease in volume of production."
"It's always difficult to deal with an increase or decrease in volume of production," says Ian Wilson, area sales manager and technical advisor at Creeds. "Normally, as a business owner, you work hard to plan for upturns in business, like Christmas, but at the moment you are having to think on your feet and without a full picture."
One option adopted by plant bakeries at the height of demand was to temporarily reduce product ranges – removing smaller or niche SKUs. In addition, some businesses may find it beneficial to introduce a second production shift, suggests Martin Smith, Fritsch product manager at Multivac UK.
Another way of boosting capacity is to increase the running speed of the production line while bearing in mind bottlenecks, says Richard Tearle, general manager at equipment supplier Rondo.
"In this case, it is very important to observe where the bottleneck moves to. It does not make sense to increase the speed of the make-up line if the downstream oven does not have the capacity for the increased quantity of products," he advises.
One possibility, Tearle adds, is to invest in a higher level of automation, as an automatic panning machine, for example, can lead to a significant capacity boost.
"Another would be to replace an old dough sheeter with a brand new one," he says. "If the production make-up line runs with belt stop, you can increase capacity by equipping the line with a travelling guillotine. Enabling you to work without belt stop can increase the capacity by a factor of two or more."
Similarly, Koenig suggests changing the dough divider and rounder to a next-level version, even if it is just on a temporary rental basis.
However, the most important – and often forgotten – way to raise capacity, according to Tearle, is to optimise current production. "Reduce scrap, reduce rejects, increase regularity of dough properties and dimension of the dough band," he explains. "Our experience shows you can easily increase capacity by 10-20% purely by optimising the production."
Good planning is also essential in order to structure the use of dough handling equipment across the day and avoid downtime.
And intelligent arrangement of the different product recipes can enable cleaning time to be minimised, advises Tearle. "For example, produce all products with the same dough type together and, within these recipes, cluster all products with the same type of filling," he says.
If you are producing fresh products, it is often best to start with the products that have the longest proofing time. This leads to shorter production processes.
"If you are producing fresh products, it is often best to start with the products that have the longest proofing time. This leads to shorter production processes."
Similarly, switching from white to dark bread can often be achieved without a cleandown, points out Keith Graham, business development manager at Baker Perkins. "Products with inclusions should be left to last – cleandown is always necessary after the last run of the day," he adds. "A schedule that minimises oven temperature changes between runs also helps."
Koenig recommends that managers consider the production process from a holistic point of view, and that all process steps need to be coordinated. From ingredients handling, mixing, floor resting time, dough make-up and proofing, up to baking, cooling, freezing and packaging – the idea is that everything is coordinated so that there is no downtime at all.
In reality, this is can be difficult to achieve, especially when a bakery has a lot of different products, points out Manuel Hobacher, head of Koenig's customer technology centre. "It helps for bakeries to purchase equipment that is quick in product changes and cleaning. If switching a make-up from hamburger buns to cheese sticks takes 20 minutes, the bakery loses money during this time, and this may be only one product change out of perhaps 10 per day."
If cleaning the line takes a long time at the end of each production day, a bakery loses even more as it could have produced additional products, he adds.
Good planning of production is also important in order to avoid unnecessary gaps, which could lead to empty/unused ovens or freezers. This, in turn, will help prevent wasted energy.
Another way to boost energy efficiency is by turning off flour dusters when there is no dough on the line, suggests Smith at Multivac UK.
It's a view echoed by Tearle, who points out that businesses should use the latest equipment, as only current lines are equipped with energy-efficient drives and motors.
"For two years now, we have use stepper motors to drive our flour dusters, which reduced the energy consumption by more than 90%," he explains.
While it is difficult for a business to prepare fully in advance for the likes of a pandemic, ensuring systems are operating as efficiently as possible at all times will make reacting to the unexpected that little bit easier.
Thinking of automating?
Ian Wilson, area sales manager and technical advisor for Creeds, on the opportunities offered by modern dough handling kit
Irrespective of the size of your business and production space, there is now, more than ever, equipment that will semi or totally automate the production of dough through to a finished product.
For example, depending on your budget and available space you can purchase a mixer that will reduce headcount but increase production and quality assurance.
Before purchasing new equipment, seek advice from a professional through an experienced machinery supplier. They will have a vast bank of knowledge from all their clients, small and large, to help you make the best-informed decision to fit your business specification, considering your budget and floor space.
They are also best placed to advise how you may further automate your business and suggest other solutions you may not know were available, such as scaling, automatic and hydraulic dividers. These machines have evolved to be able to deal with highly gassed, more complex doughs that suit the artisan market, which is very popular right now and does not look to be changing any time soon.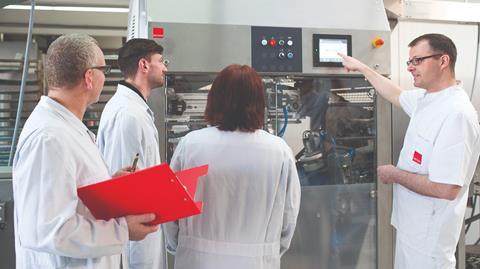 Lessons to be learned
Suitable staff training is essential for a business looking to maximise efficiency of dough handling systems.
Operators should be taught how to set up a line to run at maximum efficiency with minimum waste, suggests Multivac, as this can reduce downtime and increase return on investment.
According to Richard Tearle, general manager at Rondo, there are two key fields of training: dough processing and machine operation.
"In dough processing, staff must learn how to produce regular dough blocks and dough bands in an efficient way," he explains. "Irregular, uneven dough bands and blocks lead to more scrap and rejects."
When it comes to machine operation, he adds, operators need to learn how to run a machine to ensure continuous production, and how to react to changes in the dough properties, such as softer or cold dough.
Knowledge of equipment programs is important, says Koenig, particularly if production demands change or a new product is being introduced. "Staff should know how to switch from one product program to another, how to adjust the line and, potentially, change programs or create new product programs in the line," says Manuel Hobacher, head of the customer technology centre.
Also essential, suggests Tearle, is repeating training on a regular basis. "Often, over time, knowledge gets lost very easily as personnel change," he adds.
Cleaning and maintenance
"Proper maintenance is an investment that always pays back," says Keith Graham, business development manager at Baker Perkins.
Good maintenance starts with a good cleaning regime that should be carried out according to the equipment manufacturer's instructions – particularly when it comes to what cleaning agents can be used.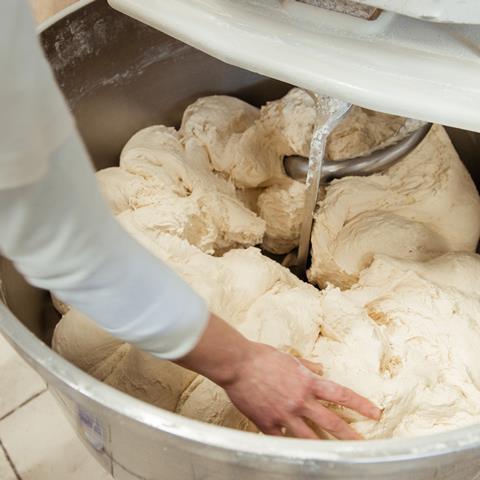 "Clean as you go," advises Richard Tearle, general manager at Rondo. "At the end of each shift, the equipment must be cleaned. It is better to clean several times during the day instead of only once at the end of the day."
Good operational standards will help prolong the life of kit.
Koenig advises that changes such as switching tools in the forming station or stamping unit should be carried out accurately, as if those tools are not inserted properly, problems can occur when running the line. "Other than that, if the line is cleaned and maintained regularly, the dough handling equipment can last for 20 years or longer," says Manuel Hobacher, head of the customer technology centre at Koenig.
Regular maintenance can prevent dough handling problems before they occur, and most equipment suppliers advise bakers to take out maintenance contracts. "Operating dough handling equipment can be compared to driving a car," says Hobacher. "You need to service your car, even though it is driving just fine at the moment."
Koenig advises bakeries to service their line once a year by having someone come in at a fixed appointment to check the line and potentially change small parts if required.
"This minimises the risk of sudden downtime and prolongs the lifetime of a line tremendously," adds Hobacher.
Baker Perkins says its contracts are aimed at avoiding unplanned downtime and waste, while ensuring product quality attributes, such as size and weight, are accurately maintained.
The company points out that retrofitting upgrades that are available with new machinery can keep installed equipment in line with the latest standards.