For proof of Britain's passion for hot drinks look no further than the furore sparked by Marks & Spencer's launch of Magic Coffee.
Describing it as the "biggest news in coffee since the launch of the flat white", the retailer this month announced it has trained 1,000 of its coffee shop baristas to make the drink exclusively for its 300 in-store cafes. Made with a double ristretto (a concentrated espresso), the drink is topped with steamed milk and served in a 6oz glass or cup, making it smaller than a flat white.
M&S wasn't the only one excited about the drink, with it making national newspaper headlines and gaining plenty of attention on social media.
Clearly there's is a big opportunity for bakers to embrace this passion for the bean, but what is involved in delighting coffee fans?
Coffee offers great profit potential if managed correctly
Max Herbaut, national sales and training manager at coffee machine manufacturer La Cimbali, says he is currently seeing a lot of interest from operators who have not considered the potential of coffee before because the focus has been on baked goods.
"But their business may have evolved through the pandemic and competition is fierce on the high street," he adds. "This has prompted many to look at additional revenue streams and coffee offers great profit potential if managed correctly."
Indeed, coffee shop and cafe consultant Andrew Bowen says margins on hot drinks should be around 85% or more.
What equipment is needed?
Consumers have become discerning where their coffee is concerned and, with so much choice on the high street, bakers are advised to invest in professional equipment.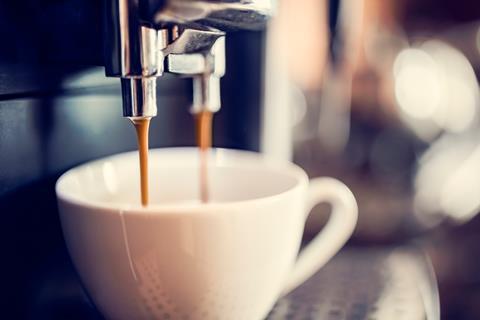 At the most basic level, coffee machines are divided into two camps: a traditional machine that requires specialist skills, and a fully automatic machine that does much of the work of a trained barista.
"I would recommend a fully automatic machine if the bakery doesn't want to invest in too much training," suggests Bowen.
He points out that using a fully automatic machine, sometimes referred to as a bean-to-cup machine, means a business won't need to invest in a separate grinder, knock box (to knock used coffee grounds into) or jug wash.
La Cimbali supplies four sizes of automatic bean-to-cup machines from an entry level one suitable for making 150 cups a day to one producing 600 cups daily.
"These machines use fresh milk and fresh coffee beans, so customers enjoy the freshly brewed coffee aroma as it wafts through the bakery," says Herbaut, adding that traditional espresso machines, such as Cimbali's M26 series, offers "exceptional quality" but requires a trained barista team to operate.
"We work with customers to identify the best solution for them, one that helps achieve the most lucrative revenues while delivering great tasting coffee," he explains. "Then we look at how to achieve the maximum operating efficiency through optimising the workflow, minimising wastage and generating maximising sales from the menu."
When it comes to financing a coffee machine, many businesses chose to purchase outright rather rent or lease a machine, finding it is the most cost-effective solution.
"Different retailers work in different ways and it depends on the size of the investment," says a spokesperson for equipment supplier Nisbets. "Sometimes rental can be organised with a coffee reseller, but operators run the risk of tying themselves into a specific coffee supply contract and repair contract."
Machine maintenance
Bakers also need to factor in the cost of maintaining their machine as a breakdown will not only impact turnover but may send customers to a rival outlet.
Fully automatic machines will need to be serviced at least once a year, says Bowen, although he recommends a service and change of water filter every six months, adding that the cost of servicing is between £500 and £700 per visit.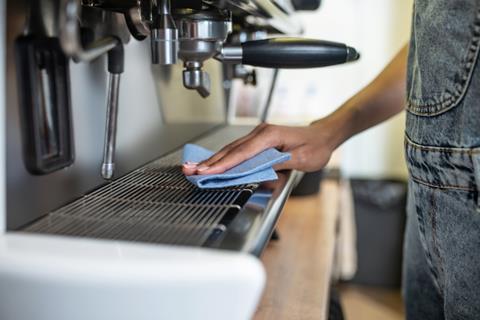 According to La Cimbali, 60% of coffee machine breakdowns are caused by poorly maintained equipment.
"To avoid the additional costs associated with emergency call outs, plus the potential loss in revenue, it's important for operators to adopt regular cleaning and maintenance checks as part of the daily routine," advises Herbaut. "Not only will this help minimise the risk of machine breakdowns but it will help deliver quality beverages too."
La Cimbali recommends:
For bean to cup models, regular short machine washes through the working day: every 30 minutes in sites with high footfall and three times a day as a minimum. A full wash at the end of the working day typically takes ten minutes and provides the additional 'deep clean' needed for best practice.
For milk systems, it encourages baristas to adopt the mantra 'purge/steam/clean/purge', constantly flushing through to remove condensation and stale milk while wiping the steam arm with a sanitised cloth. At the end of the day, the nozzle should also be unscrewed from the steam arm and soaked in warm water for optimum hygiene and cleanliness.
"We advise customers consider service and maintenance contracts as an essential part of buying new equipment and ensure the annual charges are budgeted for," adds Herbaut.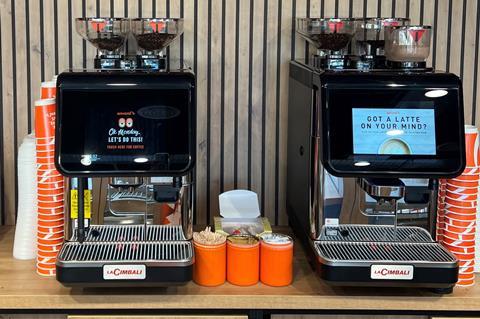 Getting staff involved
Staff training is also vital for businesses looking to offer quality hot drinks. While automatic machines can be operated with minimal tutoring, training a barista to operate a traditional machine may require months of work.
Machine manufacturers will usually offer training that will cover aspects including operation, cleaning and maintenance.
Herbaut suggests that, whether opting for a bean-to-cup or a traditional machine, staff will benefit from training from the machine manufacturer.
"Fully trained staff are likely to be more engaged, delivering better quality beverages to a consistent standard and thereby helping to create a much better coffee experience for the customer," he adds.
Having selected a machine and ensured staff can operate and maintain it, bakers will need to decide what drinks they will offer customers.
It is important to carry a core range of the most popular drinks, so a basic espresso and Americano, plus milk-based recipes such as lattes, cappuccinos, mocha and flat white. A selection of teas is also advised, along with a quality hot chocolate.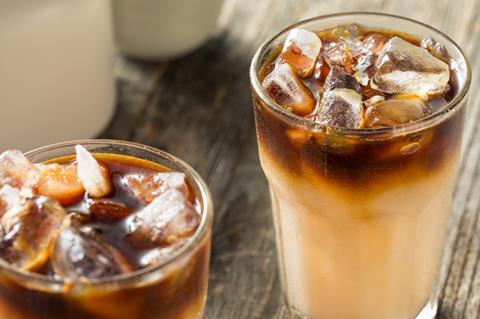 "Adding in seasonal drinks is straight forward as it is mostly a different syrup such as gingerbread or pumpkin," suggests Bowen, adding that a big opportunity is to offer cold or iced drinks in the summer although this requires extra equipment.
"I would add a few blenders to produce these cold drinks, which account for 50% of sales in the summer, and you will need an ice machine to do this properly as well."
What this adds up to is that while Marks & Spencer has made a lot of noise with its Magic Coffee, there are plenty of ways a baker can cast their own spell over customers with a quality hot drink offering.