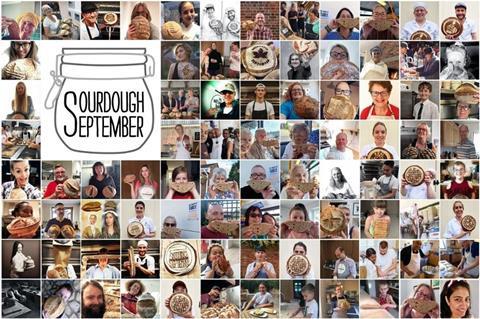 Bakers are encouraged to get involved in the annual, international celebration of real sourdough – which the campaign defines as made without processing aids and additives.
This year has seen interest in sourdough increase as many 'lockdown loafers' bought or baked it for the first time. As such, Sourdough September 2020 plans to build on this surge of enthusiasm, particularly encouraging those who have only tried one type of bread made using a sourdough starter to buy or bake more types.
The Real Bread Campaign is calling on businesses to finalise and share the events and activities they have planned for the month to help raise awareness.
Ideas for bakeries, baking schools, mills and other bakery-related business and organisations include:
Giving away (or making a small charge for) pots of sourdough starter
Showcasing a different genuine sourdough bread each week and offering tasters
Running a sourdough baking class or Q&A / troubleshooting session
Organising a social event for people who've attended a sourdough baking classes in the past
Joining forces with a local brewer, charcutier, pickler and cheese maker to run a feast of fermentation, create a local food box for people to order online, or lay a local food trail between shops.
Sourdough September 2019 saw more than 5,600 social media posts from at least 57 countries. Those taking part this year are encouraged to share a photo of themselves and real sourdough loaves they've baked or bought using the hashtag #SourdoughSelfie, while other posts should use #SourdoughSeptember.