Reader beware, you're in for a scare… at a socially appropriate distance, of course. Unless Boris and Co relax social distancing altogether, that may well be a continuing theme for 2020's Halloween celebrations.
"Following the uncertainty of this year, Halloween will be the first significant event in 2020 that bakers will be able to get their teeth into to help build their business in the run-up to Christmas," believes Jacqui Passmore, marketing manager UK and Ireland at Dawn Foods.
With the spookfest the third biggest occasion in the bakery calendar – and often accompanied by in-store activities, events and more – is it possible to have a successful yet spooky Halloween at a distance? How can bakers capitalise on the hype without the need for gatherings?
"There are many ways Halloween can be celebrated in-store and spooky activities can be enjoyed, despite social distancing," says Karen Dear, director of operations, Craft Bakers Association (CBA).
"Shops can be decorated, and social distancing signage can even be adapted to reflect the fun of the season, using phrases such as: 'We don't bite, but ask you keep your distance'."
Social media is likely to play an even more important role in the marketing of ranges and promotions this year, particularly as Passmore predicts customers will be spending less time browsing in-store.
It is on Facebook, Instagram and Twitter that bakers can shout about their new products and seasonal variations on existing ones (see box out above) and drive traffic to a bakery's website for those who have online ordering capabilities.
Social distancing signage can be adapted to reflect the fun of the season, using phrases such as: 'We don't bite, but ask you keep your distance'
"For bakers who have also invested in takeaway and delivery and continue to offer this service, Halloween will now provide them with an additional opportunity – themed bakes delivered directly to the door, for example," adds Passmore.
Online ordering is a big part of The Hummingbird Bakery's strategy, with online pre-order open several weeks in advance and a lead-up on social media to accompany this.
"Halloween falls on a Saturday this year, so encourage customers to pre-order so they can pick up the products on a certain date, or allow time for online orders, and follow your guidelines already in place for numbers in-store," says Cristiana Ballarini, activation director west, south & international, CSM Bakery Solutions.
Competitions and giveaways can also be run via social media. CBA's Dear highlights Peter's Bakery in Manchester – which asks children to share their spookiest drawing and most horrible cake recipe – as one example, with entries submitted via social media, rather than in the bakery itself.
The focus on online isn't to say shops should be neglected. "For front-of-house teams, it has become a tradition to dress up in ghoulish fancy dress," notes Tarek Malouf, founder and managing director of The Hummingbird Bakery. "Things might be a little different with face masks and PPE to consider this year, but the bakeries themselves will still have a Halloween feel."
Warings Bakery in Reading embraces the run-up with aprons for retail staff featuring bats and witches, as well as orange and green t-shirts to help promote new products. The bakery also uses a Halloween version of its logo throughout the period.
Don't be afraid to start celebrating early. "Promoting the range is fundamental to success and never more so than in 2020. We always recommend doing so from the start of the month," says CSM's Ballarini.
So, unleash the ghouls, goblins and gremlins at the start of October – just be sure to keep them at a distance.
Building a spooktacular range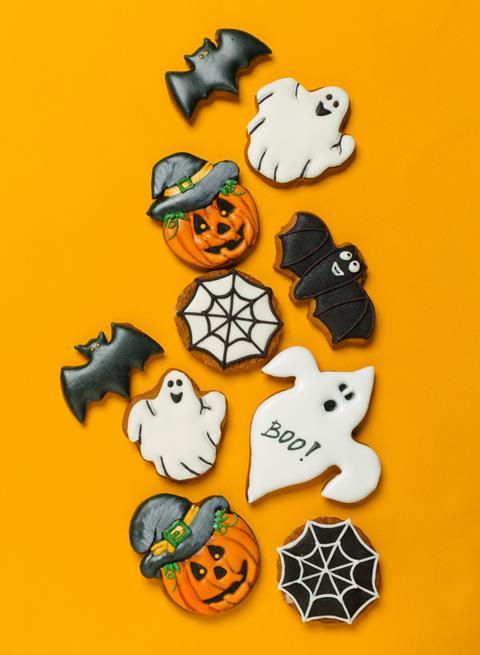 The treats have to be just right come 31 October. "From spooky themed cupcakes to larger celebration cakes, to Halloween doughnuts and pizzas, there's plenty of scope for creativity," says CSM Bakery Solutions activation director west, south & international Cristiana Ballarini.
Decoration is key, she adds, noting that the traditional black and orange colour palette will be accompanied by hot pinks, purples and cobalt blue across a range of goods.
For those looking to experiment with more colours this Halloween, Dr Oetker Professional's senior brand manager Emma Stamp suggests incorporating the increasingly popular Mexican Day of the Dead, which features a "much more colourful palette" in the form of brightly coloured skulls.
Witches, bats, ghosts, pumpkins and mummies are among the Halloween bakery staples and this should be echoed in the products offered. Gingerbread is an easy product to transform to suit the season, as is swapping the toppings and sprinkles on cupcakes or doughnuts.
London's The Hummingbird Bakery, for example, showcases several sugar fondant designs each year with various shades of frosting – orange, green and purple being mainstays. The 2019 range included a Halloween unicorn rainbow cake with a vanilla sponge base, as well as an orange-coloured vanilla cake with ghost motif and chocolate flavoured vampire bat design.
It also often brings back best-selling fondant decorations from previous years, with tweaks to improve the designs. However, it has seen a shift in demand for certain formats.
"In 2016, the majority of our Halloween sales came from mini cupcakes, but from 2018 onwards this dropped to less than half our sales and we saw whole cakes surge in popularity," says founder and managing director Tarek Malouf.
Smaller formats shouldn't be neglected, though, catering for individuals, smaller gatherings and a treat alongside a hot drink. "It's important to include portion sizes that don't have to be shared," adds Ballarini.